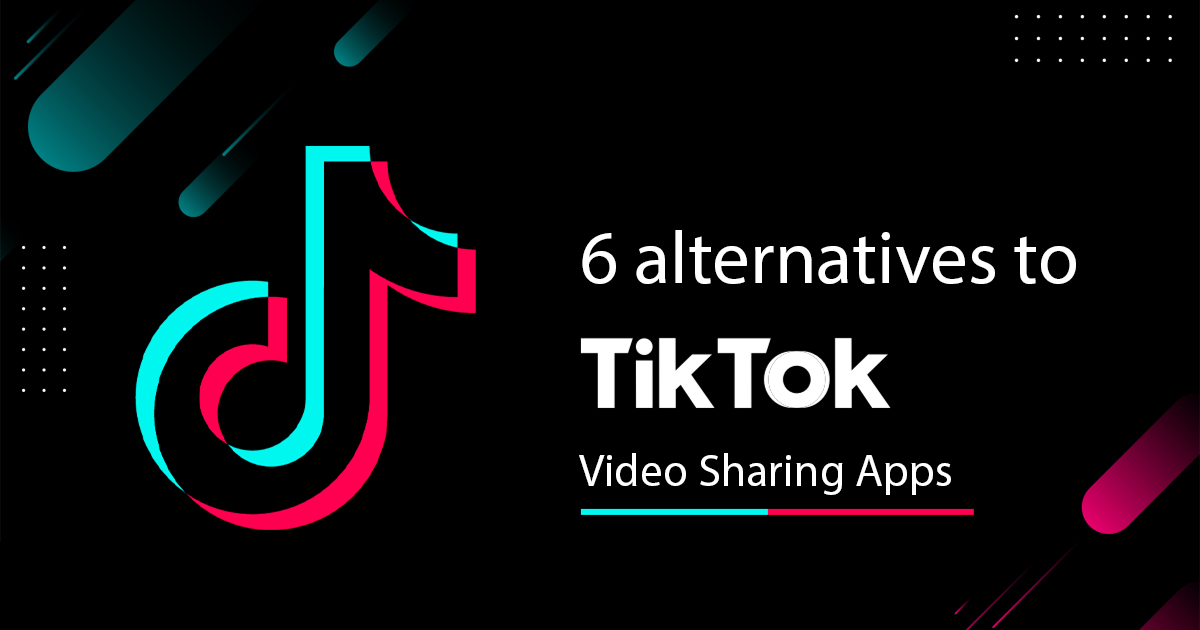 Introduction
It's one of the favorite apps for teens.
TikTok is a social network whose principle is based on sharing short videos – play-back, dance, humor, etc.
In itself, it is quite close to Instagram or even Snapchat from which it takes the basic principles, with its own peculiarities.
Playbacks and humorous videos give it that little touch that makes the difference.
Video editing was quite a task before these apps emerged.
When Dubsmash first hit the market, it became so popular among people to sync movie dialogues.
However, with no option to edit videos or add any special effects or stickers and filters, users moved to the newly launched Musical-ly.
Musical-ly (Tik Tok) covered the excellent video editing functions and lip-sync of popular songs.
People loved these concepts and the music app went viral in no time. Later, the Chinese company ByteDance acquired it and rebranded it as TikTok.
But what are the alternatives to this app? We'll take a look at 7 of them:

1. Dubsmash
Dubsmash was the first to hit the lip-sync video market.
Earlier, users could only lip-synchronize popular dialogues from movies and TV shows.
However, after a complete overhaul, you can now add music, quotes, or sounds to your video.
The Dubsmash app boasts of an extensive library of sound media in the world.
From songs, fun musical sounds fine-tune new movie dialogues to funny quotes from Television, and more.
It also allows you to add your own sounds.
They also run different challenges to engage their users – the popular Mannequin Challenge was started by Dubsmash.
To make your dub more attractive, you can edit it with cool text and stickers.
2. Likee
Likee is another popular application that can be used as an alternative to TikTok.
The app provides trendy lip-sync music videos, video stories, dance performances, entertaining shows, and much more.
With over 300 unique effects in its video editing tool, this app is sure to catch your attention.
It also stores a range of music clips from Hollywood, Bollywood, European pop, and other genres of music.
It also offers music, movies, and dramatic dialogues from Hollywood, Bollywood, Tollywood, and other regional media.
Just like TikTok, you can connect with people and play duets with other users.
You can record and edit videos with emojis, a variety of filters, magical musicals, graffiti touching, 4D magic superpowers, etc.
Likee allows sharing your videos directly on Instagram, Whatsapp, Facebook, TikTok, Snapchat, Youtube, and other social media sites which makes it a better alternative to the TikTok app.
3. Vigo Video
This one is a short video creation application with an easy interface.
You can share your singing, dance, comedy, cooking, art, beauty, or any other skills videos!
Add special effects and animated stickers to make your video more eye-catching.
The app has a real-time beautification camera that can magically smooth your skin, remove any spots, and highlight your eyes too.
It also has a live streaming option like Facebook and Instagram.
Collaborate with the people you love and increase the number of your followers.
You also earn flames (reward points) if your video earns a good number of likes, shares, and comments.
The flames can be redeemed for real money and transferred to your bank. Isn't that an exciting alternative for TikTok?
4. Triller
Create videos in seconds with professional editing tools and algorithms from Trill.
The app also allows you to collaborate with friends to shoot videos and upload them.
The sharing feature allows you to upload short movies or song videos to your Instagram or Whatsapp stories.
You can adjust, crop, trim and edit videos with effects, filters, drawings, texts, and emojis to make the video more beautiful.
Create group videos by collaborating with your friends. Like, comment, follow, and chat with talented people around the world.
Millions of people have made videos with this TikTok alternative app, including celebrities like Selena Gomez, Justin Bieber, Rita Ora, Kevin Hart, and more.
5. Lomotif
Lomotif is one of the best video clip editors for iOS and now Android users too.
You can add music, combine video clips, add photos, paste/edit, and much more.
The Lomotif allows you to crop, cut, duplicate, and zoom out with its integrated video editor.
You can add title and text overlays to your videos. You can also add filters, animated stickers, emojis, and GIFs to your video clips.
You can join the music community to get trendy videos, and just like TikTok you can collaborate with friends and make cool videos.
Unlike TikTok, Lomotif allows you to share your videos on Instagram, Snapchat, TikTok, Facebook, Messenger and other social media.
6. Funimate
With over 20 video effects, Funimate is another good alternative for creating and sharing lip sync videos and slow-motion clips.
The app engages users with its daily challenges.
Participating in these challenges for making slow-mo videos, and attractive movie clips can get you a chance to be featured on Funimate.
Want to share your videos with family and friends? Funimate allows for seamless Whatsapp sharing.

We have seen the best alternatives to TikTok for Android and iOS above. So, if you are tired of using TikTok then you can try these apps.
And if you are a business that wants to create an app like TikTok, then this is the right time.
We at OneClick IT Solutions, have the experience and expertise to develop scalable video recording, sharing, and editing apps.
Contact us to know what the cost of developing an app like TikTok is.