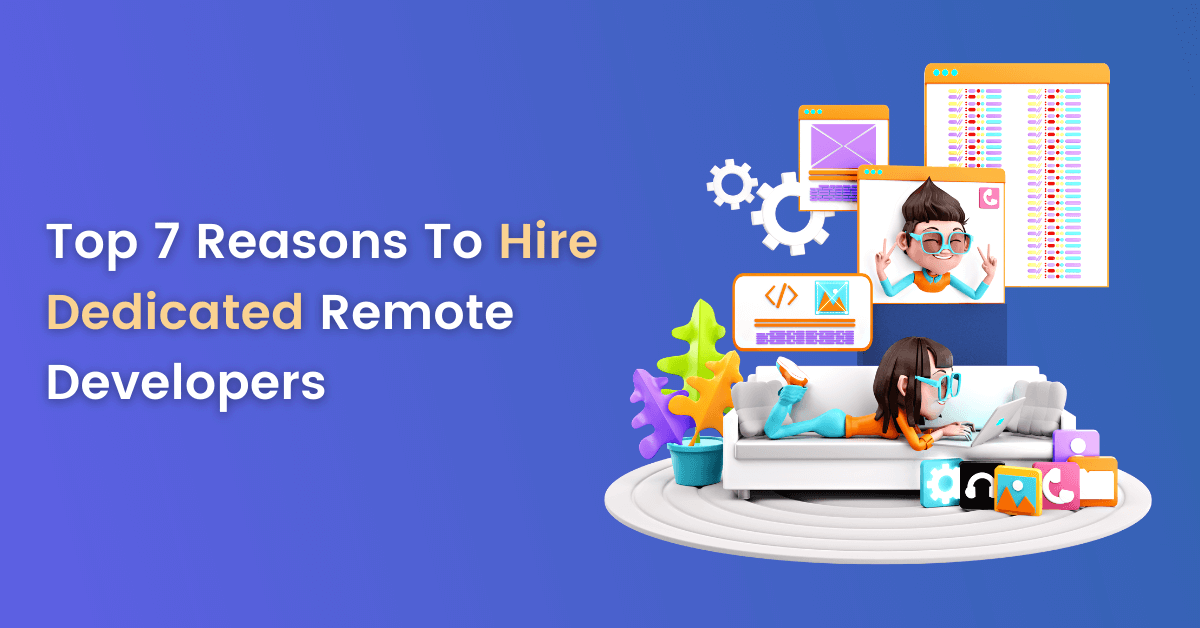 Outsourcing software development enables businesses around the world, including the top performers. Most companies are moving to hire remote developers to add talent and expertise to their existing projects.
Leading players like Google, WhatsApp, Slack, and Microsoft have many stories to share about their remote hiring policies.
A Technavio study reveals that the global IT outsourcing market will flourish at a CAGR of 5% over the period 2020-2024.
The demand to hire remote software developers continues to grow as organizations want to optimize their business processes and align strategic planning with operational strategies.
The outsourcing of a mobile application development project and the hire remote developers have the same advantages as in multiple areas of economic activity.
A significant reduction in costs, saving of time and energy which can then be mobilized on strategy and business development.
This article shows you how to hire remote developers can help you build a stronger, more robust, more diverse, and more productive team.

Let's see together the advantages of hiring remote software developers and outsourcing your project.
7 Reasons To Hire Remote Developers
1. Access a Larger Panel of Talents
When you hire remote developers, it gives you access to a large pool of talent. You no longer have to limit yourself to only candidates who are in your geographic area.
Remote hiring is ideal for companies looking to strengthen their development teams. Rather than limiting yourself to space, you can broaden your horizons to give yourself the opportunity to land the best candidates when you hire software developers remotely.
Opting for IT Staff Augmentation with remote developers provides a cost-effective, flexible and scalable solution to fulfill your technology needs, irrespective of geographical barriers.
By increasing the pool of potential talent, you are much more likely to find the person you need!
2. Build a More Diverse Team
If you decide to recruit profiles abroad, note that diversity within your organization can allow you to find a new range of specialized skills and knowledge.
In addition, building a diverse team can not only help your organization attract the best talent, but also build the reputation of your brand.
3. Unlock Untapped Technical Talent
Many talented developers choose to work remotely for personal reasons.
The reality is that the best developers may not be the ones who want or are able to get into an office at set times every day.
Some workers are better able to work from the comfort of their own home or even country.
In the war for the best in technical talent, companies that offer flexibility in terms of telework have a clear advantage in hiring. This is why it is often advisable to hire remote software developers.
4. Innovation and Quality
Innovation and quality are the main concerns of subcontracting companies.
Hiring remote software developers offers you access to highly skilled professionals with proven experience and expertise in a particular technology.
If you expect the same kind of quality resources, you might either have to headhunt them or spend time in training existing resources both of which are not feasible options.
5. Stay Focused on Your Business
Having to deal with your IT department imposes considerable operational costs when it comes to an area that is not your core business. Outsourcing is one of the most cost-effective options at such times.
Moreover, if your IT team doesn't have developers skilled for a particular technology, and the requirement is short-term, it is ideal to hire remote developers.
This will help you fill the requirement in the shortest duration and prevent the cost and effort of hiring a full-time member of the team.
6. Increase Productivity
The effects of remote working on productivity can be enormous. A 2-year study showed that the productivity levels of people working remotely totaled the equivalent of a full day's work.
If you have real concerns about the productivity aspect when you hire full stack remote developers, there are methods to measure it.
You can use time tracking software, or employee engagement software that monitors projects, data and time spend by your developers.
However, based on research, chances are there is no need to monitor productivity – as the results will speak for themselves.
7. You can Cover More Hours of Work
By hiring a remote team for your Custom software development, you can meet short deadlines.
The agency or app development company you hire can put more heads to work in order to complete the project.
If you hire in different countries, you can even consider a 24-hour service because your team can work in different time zones.

Conclusion
Remote work continues to grow, which is not surprising. With access to a much larger talent pool, companies can build diverse teams and benefit from many advantages.
It is a collaboration. And if you choose the right offshore development company, you will have experts to plan and execute your projects when you hire remote developers.
At OneClick, you can hire developers to improve the strength of your project team. You can also outsource your development project to us and rely on our remote working, dynamic and productive team. Contact us to know the cost to hire remote developers.