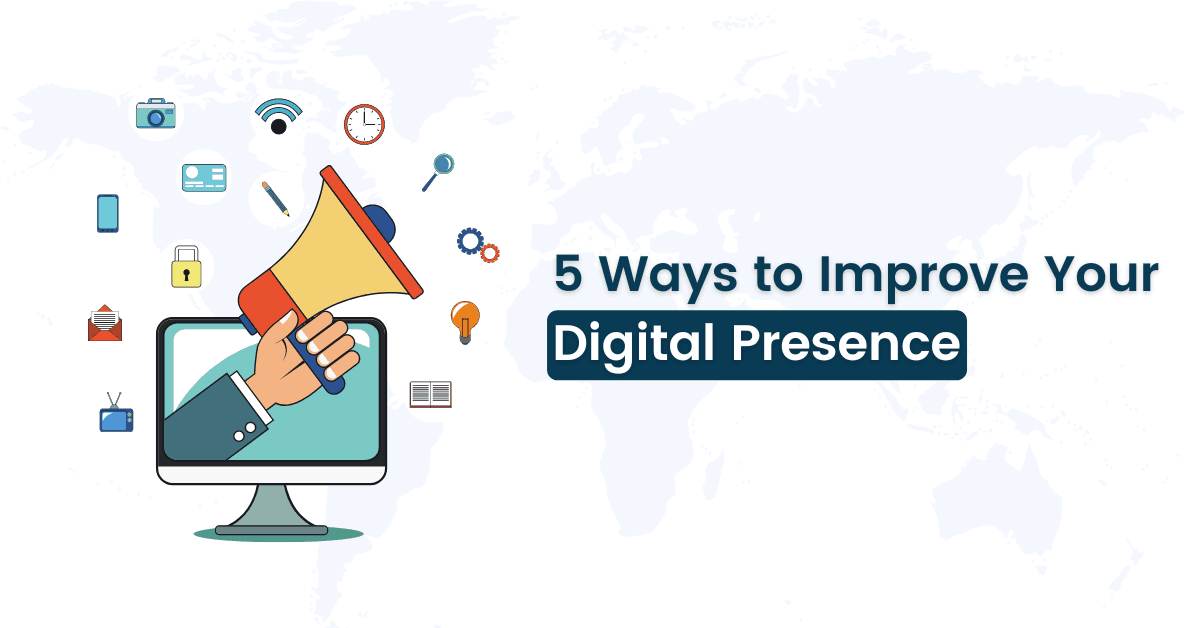 Having a good product or a good service is no longer enough. If you have something to say or to sell, you have to be on the scene to do it. Without the right platform, you run the risk of failing where your competition is. here we are discussing how to Improve Your digital presence and boost your brand visibility.
1. A Website to Gain Credibility
To be credible in the eyes of the general public, having a website is now considered essential. First of all, because it proves that you are well in tune with the times. Second, it helps convey a professional image of your business.
Convey a Professional Image
A website is also a powerful tool for developing your visibility and demonstrating all your expertise in your field. A website also helps to convey a professional image of your business. Knowing that many Internet users are looking for information about a product or service, it is important that they can find you when they are looking for you on the Internet. If they can't find you, they may become a little uncertain about your business (in terms of its existence, its modernity, the effectiveness of its products or services). On the contrary, if they find you easily and that in addition your website is well done, with clear and up-to-date information, a refined design, and optimized ergonomics, you will then create a positive feeling with them.
Another way of reaching a wider range of audiences is through mobile apps. A feature-rich mobile app can improve the visibility of your business as well as boost your ROI through increased sales.

Web App Development – An Important Generator of Growth
The Web will be able to generate both direct and indirect benefits. With a good digital communication strategy (we will talk about it in the second part of this article), in fact, you will be able to develop your sales but also retain your customers.
When it comes to direct profits and growing sales through the web, most of us directly think of online sales and e-commerce website development. However, this is not the only way to generate direct benefits. In reality, as soon as you transform a prospect coming from the Web into a customer, you make "a sale", whether the transformation in question is an online purchase or simply the fact of filling out a contact form or a request for a quote. In other words, a showcase website with contact forms in the right places also helps to develop your sales, because it is a source of prospects and therefore customers.
2. Social Networks, The New Power of the Consumer
Since the appearance of social networks, the balance of power between the company and its audience has gradually evolved. The consumer has become an actor. You are now expected to create a real relationship with your customers, to meet their needs and expectations as well as their questions.
A Website to Create Interaction
How can you create this dialogue that has become essential if you are not present on the Web? The Internet, in fact, is the only place outside of physical conversation where you can create some form of dialogue. A website also allows you to set up a constructive dialogue. For example, by integrating chatbot applications or through an FAQ, a review section, or a blog.
Thus, with a website and presence on social media, you have more control over your e-reputation, which is an undeniable advantage.
3. Build Mobile Presence
Over 61% of Google searches happen on mobile. This reiterates the fact that investing in a mobile responsive website or mobile app development is crucial to your digital presence. Your website, content, and design should provide the same kind of experience on all mobile devices to improve engagement from users.
Cross-platform app development is a good choice to get the most out of both iOS and Android users. They are cost and time saving too. Technologies like React Native make the job even easier by providing a native app-like experience. If all the parameters for UI/UX on mobile devices are met, you will be able to achieve customer satisfaction, better rankings and in turn, a good ROI.
4. Email Marketing
The email campaigns keep your audience informed about your activities. They will also help you to retain your customers who will be able, for example, to obtain promo codes and exclusive news. In addition, newsletters are more durable than publications on social networks because they remain in the user's mailbox until the latter opens or deletes it.
5. Paid Online Campaigns
While it's now easy to get free advertising on the web, paid campaigns can sometimes be a good idea. In particular, they can give you a boost if your business is young or help you promote certain products that you want to promote.
As with the other aspects of your digital strategy, it is important to develop your Google Ads, Facebook Ads, or other campaigns according to the profile of the customers you are targeting. Also, don't forget to think of your campaigns in terms of seasonality and frequency.
This way you avoid losing money by reaching out to too large a community and get the best ROI (return on investment) possible.

Conclusion
Integrating your business on the Web is essential, it is a fact! Even more so if you operate in a competitive sector, you must go through this channel to establish your brand image. The Internet has become over the years a real prospecting machine. You can gain notoriety and be visible to people who don't know you but are looking for information related to your industry.
However, you should not enter hastily to build a digital presence at the risk of doing it anyhow. It is important to develop a digital communication plan based on the profile of the audience targeted by your company by offering a quality offer that will meet the needs of your potential customers and hope to obtain a high conversion rate.
In most cases, it is advisable to collaborate with the top web and app development company to optimize your digital presence and therefore your financial investment. At OneClick, we have nearly a decade of experience in helping businesses leverage the latest technology to establish a digital presence and promote it through digital marketing services. Contact us for a detailed strategy and no-obligation quote for your project.