Ecommerce
Effective Ways to Increase eCommerce Sales in 2023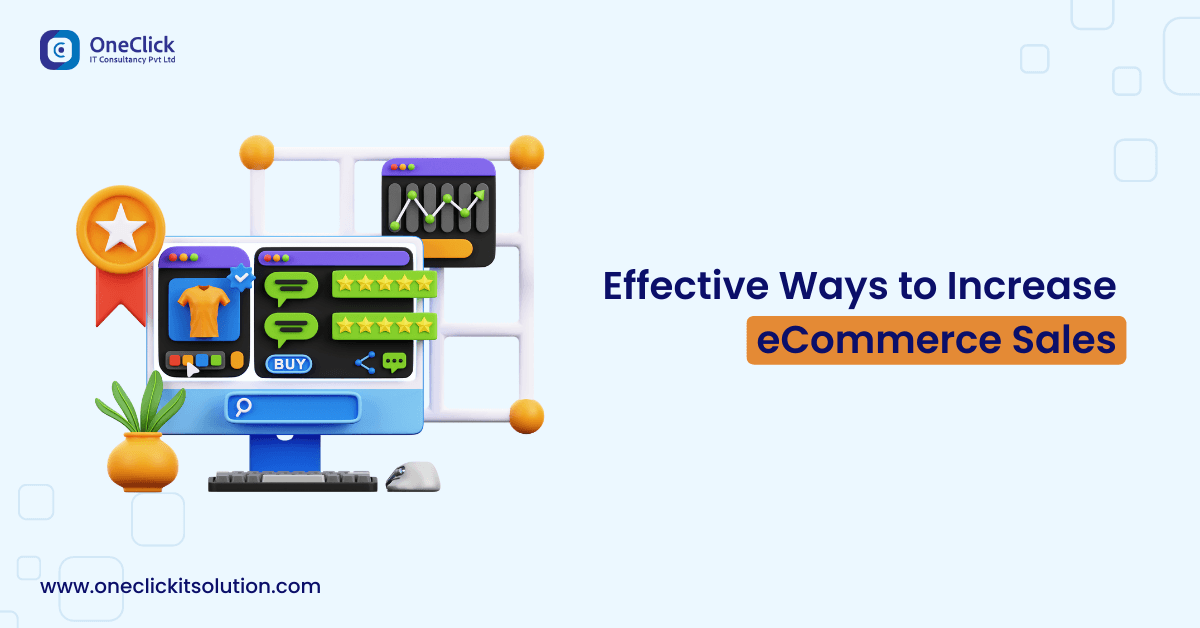 With the containment and the threat of the pandemic, consumers are turning to eCommerce.
Multiple solutions are emerging to meet growing demand, such as eCommerce platform development and smartphone applications.
Many companies are setting up their virtual store or are adapting and strengthening existing services, which were underdeveloped.
There is no doubt that the crisis caused by the global coronavirus pandemic has created an incredibly difficult business climate.
Businesses face many new challenges, with the closure of international borders, the closure of physical establishments, and the isolation of people at home.
Financial uncertainty and the prospect of a severe, long-term recession create a difficult environment that has had an impact on consumers' perspectives, perceptions, and behaviors.
For companies that remain active at the moment, questions inevitably arise about how best to cope with current business conditions and adapt their strategies.
The first indications of what could happen to businesses and the economy could be measured by examining data from the countries that were the first to suffer from the effects of COVID-19.
COVID-19 Already has an Impact on the Behavior of Buyers
In early March 2020, marketing media, The Drum, reported a study that shows that while annual advertising growth rates in China are expected to drop from 7% to 3.9% in 2020, advertising spending on e-commerce is expected to increase by 17.7%, and spending on social media by 22.2%.
This clearly shows that consumers are now shifting to online shopping.
Hence, about 14% of brands have shifted gears from offline media to online as people spend more time at home.
In the same study, they go on to say that e-commerce as a platform has already grown exponentially, particularly in the consumer goods sector, which has seen spending through e-commerce channels in China.
And speculations suggest that eCommerce will experience higher growth in 2020-2021 as compared to 2019.
Additional data from Business Insider Intelligence and eMarketer suggests that 74.6% of American internet users said that they would be likely to avoid shopping centers and shopping malls if the coronavirus epidemic in the country worsened, and more than half of them would avoid shops in general.
5 Ways to Battle the Slowdown and Drive Sales Through Custom eCommerce Development
Introduce Chatbots
Most eCommerce portals still deal with traditional customer support methods.
According to Business Insider, 80% of businesses will be using chatbots by 2020.
This artificial intelligence software is much more than a new channel for consumers to find e-commerce deals and buy products.
Consumers can use chatbots to identify the products they want and need. 94% of online shoppers base their purchasing decisions on product information.
Schedule your chatbot to answer the most common product questions.
This will save your employees time.
Allow chatbots to direct customers to customer service professionals for highly specialized products.
Give your customers 24/7 access to your business or customer service through chatbots.
Use chatbots to efficiently collect customer data. Monitor their behavior, including their purchase history and preferences.
Add AR/VR to Boost Customer Experience
Product visualization increases sales and decreases returns.
This is why almost 90% of companies with annual sales of between $100 million and $1 billion now use augmented reality or virtual reality technology.
According to Gartner, 100 million buyers will use AR online and in-store by 2020.
This technology serves as an extension of the brand experience, as it engages customers in immersive environments and increases revenue.
Develop augmented reality ready products and add them to your website for an intuitive shopping experience
Improve the product discovery process. Combine customer insights and VR to showcase unique products that appeal to your target audience.
Organize live online events to market your products to a wider audience.
A good eCommerce app development company can help you integrate these features.
Integrate Voice Commerce
Smart speaker devices like Google Home and Amazon Echo pair with smart PDAs like Google Assistant and Alexa to execute commands, search the web, and control other smart devices.
60% of virtual assistant owners across the world made purchases using voice commands.
Due to the immense popularity of this technology, it is expected that by 2021, many brands will revamp their websites to support voice search functions.
Invest in a fluid voice search function, driven by artificial intelligence.
This improves the user experience and shows customers that you really want to provide them with the best on-site experience.
Revolve Your Advertising or Social Media Around Less Popular Products
Yes, daily essentials are the need of the hour but other items will also take precedence when the situation turns back to normal.
The current scenario is the perfect time to get your products on a consumer's wish list.
After all, everyone loves to shop virtually since they cannot walk up to a physical store.
There will also be a boost in impulsive buying and that's when your product recall value will come into place.
Design your eCommerce website pages to highlight products that are less popular and give you higher profit margins.
Build Customer Loyalty Through Contests and Games
Popular brands are engaging customers with regular email marketing efforts. Since the business has come to a pause, this time is best utilized to build a relation with your customers.
Contests and games appeal to the millennials and Gen-Z. Use these in your digital marketing campaigns to drive traffic to your website.
You can add new games to the landing pages with Gamification software which can be easily integrated with the help of a software development company.
Give out your own shopping vouchers or add wallet credits to encourage buying after the slowdown from your website.
To Conclude
Brands or businesses that have closed down temporarily will be the victims of the "Out of Sight, Out of Mind" phenomenon.
If you want to be present in the mind of your consumers, empathize and be a part of their journey during this time.
An ideal strategy to bloom during good times will be to invest in improvisation and innovation.
At OneClick, we can help you stay on top of your technological and digital strategy.
Whether it is improving your site loading speed (if that is what you have been struggling with), or adding the latest features for a seamless experience.
Our team of experts can help you with end-to-end services and guidance to bounce back once the pandemic is over.