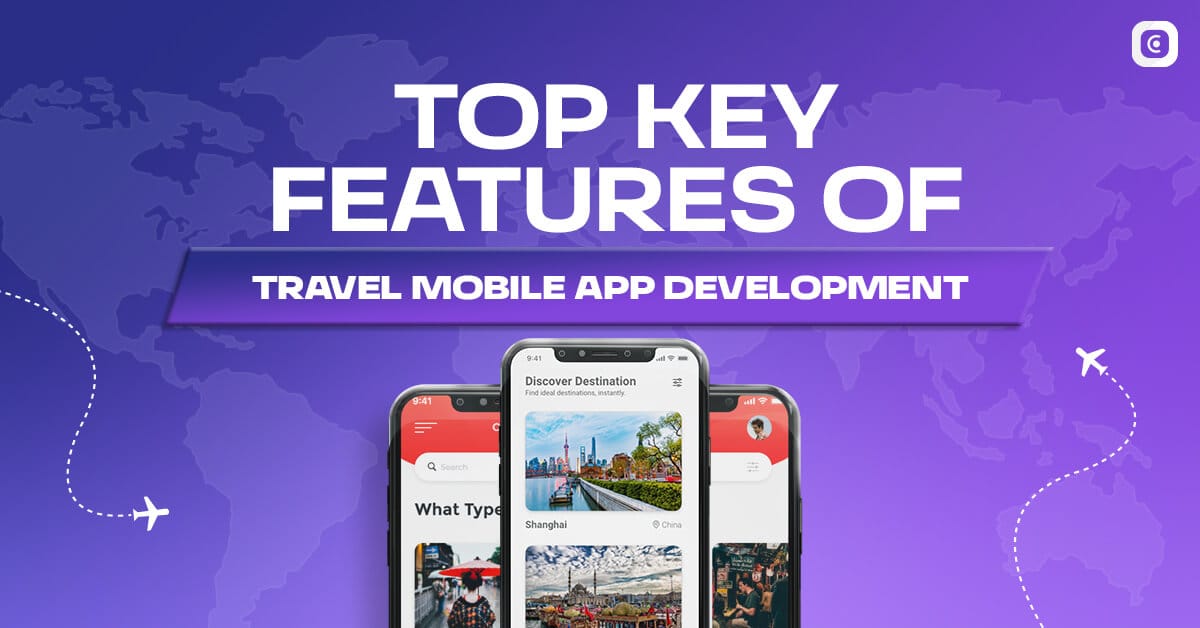 Travel mobile apps are a great way to make your customers' trips more comfortable and enjoyable. By including the right features in your Travel App Development, you can help them with their journey by answering questions, providing information, and much more. Here are some top Travel Mobile App Development Features that will make your travel app stand out from the crowd.
Travel Mobile App Development Features
1. Responsive App design
A responsive app design is an app that can be accessed on any device, regardless of the screen size or operating system.
Whether you are using a smartphone, tablet, or desktop computer, your app will automatically resize itself to fit the device it is being viewed on.
2. Social Media Login Integration
Social media login integration allows you to connect your users' social media accounts with their travel profiles which provides them with an easy way to sign up for your app without even having to enter their email address or password anymore!
This also helps you build trust with your customers by making it easier for them to share their experiences with friends and family via social networks such as Facebook, Twitter, and LinkedIn.
3. Customer Feedback Solutions
Feedback is an essential part of improving customer service and ensuring customer satisfaction.
With customer feedback solutions built into your mobile app, you can track the usage patterns of your customers and use those patterns to improve your product or services.
It is one of the most important Travel Mobile App Development Features because it gives you an opportunity to improve your business and make customers feel valued.

4. Supports B2B And B2C Sales Channels
Your business may need a mobile app for both business-to-business (B2B) and business-to-consumer (B2C) sales channels.
For example, if your business sells travel packages for families or groups of friends, you might have one version of the app where users can search for vacation packages based on their requirements and book directly from the app itself.
On the other hand, if your business sells individual tickets for airlines or trains, then your customers will most likely use your website instead of downloading an app from an app store on their device.
5. Manage The Complete Booking Process
It is important that your mobile booking process is as smooth and efficient as possible so that users can book their tickets in just one click!
This means that all relevant information should be available on one screen so users don't have to go through multiple screens just to get everything they need before making a purchase decision.
6. API Integration
API integration allows you to integrate with other systems and platforms in order to automate certain tasks within your business.
Many companies have APIs that allow for easy integration between their websites and third-party services, so it makes sense that many also offer APIs for their mobile apps.
This makes it easy for users to access information from their website without having to go through several steps or download an additional app.
7. Support Multiple Languages
If you're trying to reach an international audience, it's important that your app is available in multiple languages so that everyone has access to it without having to rely on translation services or other technological barriers such as language barriers.
8. Multiple Currencies Support
This is the most important feature of a Travel App Development. It has to be able to support multiple currencies and allow users to choose their currency so that they can see their balance in the chosen currency.

9. Generate a Reports
A Travel App Development should generate reports based on the user's requirements, such as a report of how many people have used your app, what percentage of your customers were from different regions, etc. You can also generate reports based on any other criteria you want to use.
10. Support For Managing Multiple Branches
The mobile application should allow you to manage multiple branches from one place so that you don't have to switch between different screens every time you want to check something about your business or make changes on the go!
11. Powerful Admin Panel
You can manage your entire branch network from a single location. You'll be able to see reports on everything from customer satisfaction to employee performance in one place so that you can make sure your travel business is running smoothly and efficiently.
The best part? You don't have to be in the office to get access! All you need is a good internet connection and a web browser (mobile or desktop).
12. Real-time Translation
Real-time translation is a feature that can be used for any language. It is a feature that can be used on any Travel App Development and on any device.
Real-time translation is the ability to translate what you are saying in real-time. This means that the person who speaks another language will hear their interpretation of your words as soon as you say them, without having to wait until they finish speaking before hearing their reply in their native tongue.
It's important to note that this doesn't mean if two people are speaking different languages simultaneously, one person can just think of something they want to be translated and then have it happen instantly without making an effort or doing anything else.
Real-time translation is useful for travelers who are visiting a foreign country and want to learn the language of the locals or communicate with them.
The travel app can translate the language spoken by the traveler into the language of the local population and vice versa, thereby helping them interact with one another easily.
Video translation is a very useful feature for travel apps. It means that you can translate videos in real-time so that your users can understand the content of their videos.
This feature will allow you to translate videos from different languages into one language or another which is suitable for each user.
13. Smart Payment Options
Travel mobile app development for travel agencies should enable robust and secure payment options. The payment option should be simple to use, accessible from the app, and compatible with different currencies and payment methods. You can also offer in-app purchases or special discounts or coupons.
For example, you can integrate a third-party provider that offers an API so you don't have to develop your payment solution from scratch.
14. Interactive Maps and Directions
This is one of the most important features of a travel mobile app. The map should be easy to use and navigate, but that's not enough. It should also be able to show the user's location, destination, and route in real time.
If you're driving from Los Angeles to New York City, for example, the map should allow you to see where you are about your destination so that you know when and where it's safe for you to stop at a roadside food truck or rest stop. This will make traveling much easier!
15. Live Weather Forecast
A travel app can be of extreme help to the traveler. Having a handy tool that provides you with important information about your destination and route before leaving home, is something worth having when going on a trip. The live weather forecast feature will show you what kind of temperature, precipitation, and wind speed you can expect at any time of day in the city that you're visiting.
This way, you'll know whether it's suitable for outdoor activities or not (which means no need for unnecessary changes in clothes). The travel apps will also tell if there are any weather alerts associated with high humidity or pollution levels due to industrial emissions near your destination city it's all about being prepared! 

16. Data Protection
When it comes to travel mobile app development, It is vital to protect your users' data and ensure that your information systems are secure. These measures will help you to prevent data security breaches, which can result in fines or even jail time for executives if sensitive information has been inappropriately accessed or exposed by hackers.
Data Protection Laws
Data Privacy
Data Security
Data Encryption
17. Augmented Reality and Virtual Reality Guide
AR and VR are becoming more popular in travel mobile app development, and they can help you provide a better experience for your customers. With AR, you can use the technology to enhance the experience of your customers by providing additional information about tours or attractions. 
For example, let's say that you're an innkeeper who wants to highlight what makes your bed and breakfast special without having to write out descriptions on paper.
You could use AR technology to show visitors what it would look like if they stayed at your property and then give them the option to book their stay right away! By using this type of travel mobile app development features, travelers will be able to see exactly what they're getting themselves into before even stepping foot in town. 
18. Voice Assistant Integration
At this point, you're probably wondering why you would even want to integrate a voice assistant into your travel app. Well, let me tell you.
Voice assistants are great for getting information without having to search through your app. This makes it easier for users and can help them find what they need faster than through traditional means.
Voice assistants can also help with the navigation of your app, which is especially useful if you have a very long list of content or many different options within one section (like restaurants). You likely don't want someone scrolling all over the place trying to find their destination they may just give up altogether!
19. Smart Search
The search box can be used to find flight details, such as the flight number, departure and arrival timings, and price. Users can also perform a last-minute booking with the app.
This feature is specially designed for travelers who want to book tickets instantly and do not want to waste time by going over the internet for hours just to find out about the availability of seats on flights.

Conclusion:
We hope you enjoyed reading about these top features of travel app development in 2023, and that it has given you some helpful ideas for your apps!