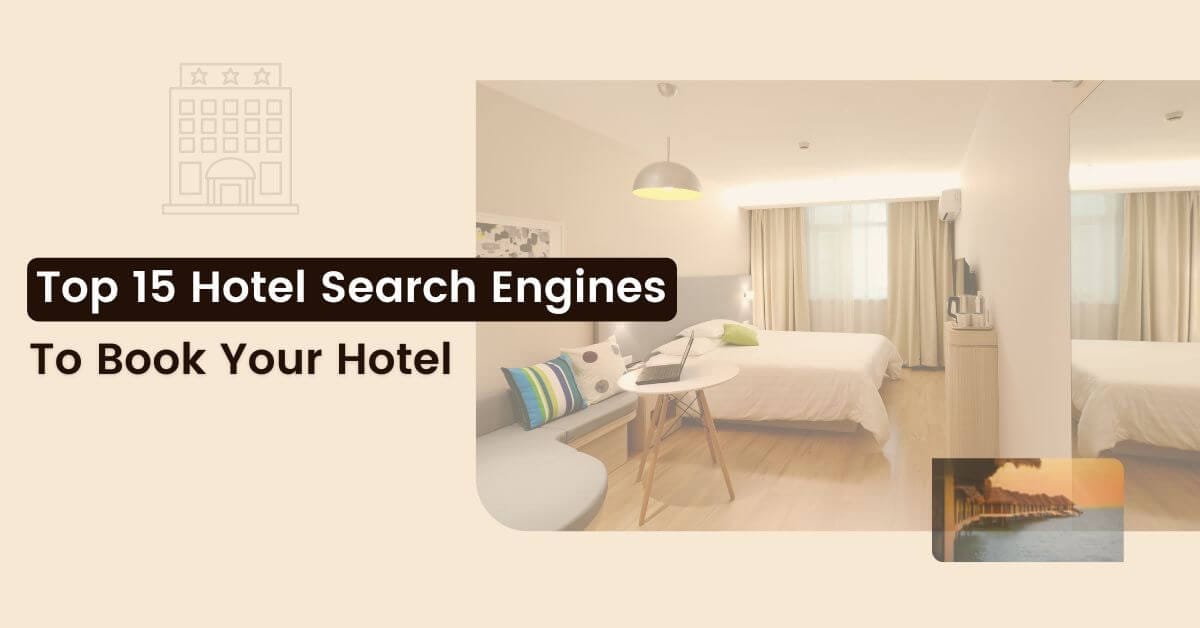 What is a Hotel Search Engine?
A hotel search engine is an automated engine that allows you to search, compare rates and book a hotel through an online portal. Using these top hotel search engines you can ensure that you find the best deals on hotel rooms, which may be necessary when you are looking for a vacation, or just trying to find places to stay close by. When looking at their rankings, the one with the fewest number of stars will always be the cheapest (in theory), but it's worth noting that there are many other factors when considering what might make some hotels cheaper than others. For example, price isn't everything, and in some cases, it might make more sense to pay more for better service or facilities. However, if you are just looking for a place to sleep, then the price is probably the only thing you care about.
These hotel search engines allow you to choose your location and what sort of rooms you would like to stay in. It will evaluate tons of different websites and compare them to find the best price that suits your needs. Most of these search engines do not charge people anything for using their services, so it is worth taking advantage of these search engines when looking for deals on hotels. They can save your money throughout the year, but they can also mean that you don't have to keep checking multiple websites for different prices.
There are many different hotel search engines out there, so it is important to find the one that provides you with the best deals. You can use these search engines to check websites like Hotels.com and Expedia, which are two of the most popular websites for finding hotel rooms. If you do not find what you are looking for on these sites, then a hotel search engine will do you a lot of good. These sites will show you all of the best deals from around the internet, so you never have to worry about being left behind when it comes to finding great deals on hotels.

What are the Benefits of a Hotel Search Engines?
Calculate the total cost of your hotel stay before you arrive at your hotel. that is a great way to make sure you're getting a good deal and are saving money. Compare prices from various websites and find a few that offer discounts and coupons when booking directly from the website. If you are using several websites, consider visiting the same websites for all future bookings, so your information is saved between your search or visits. If there are any changes about your upcoming trip or event, you will be updated instantly.
Top Hotel Search Engines to Book Your Hotel
1. Expedia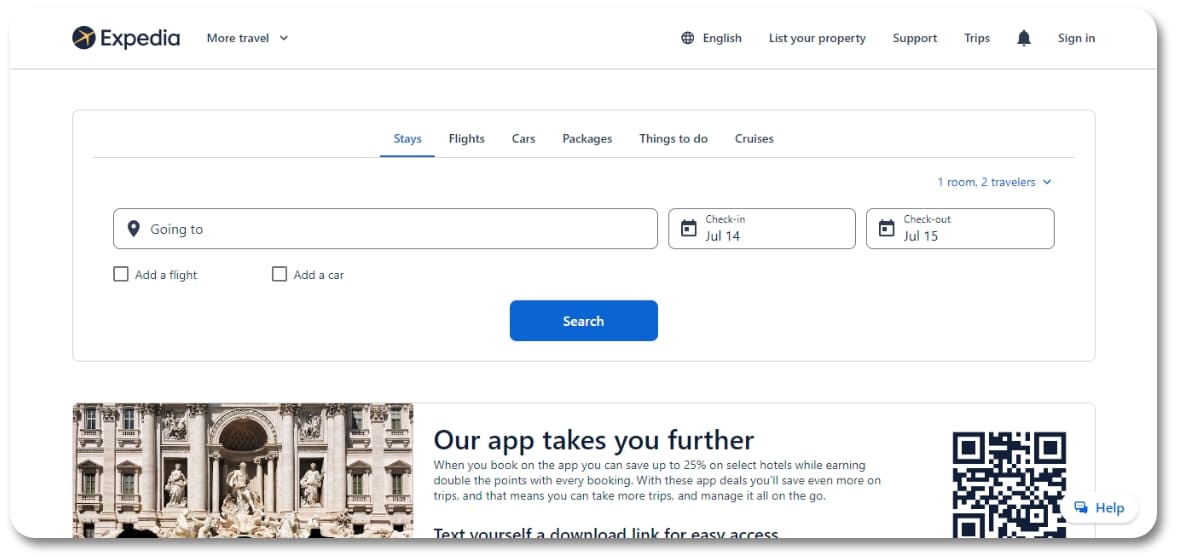 Expedia is a well-known travel website that connects people to the best travel deals on hotel rooms. They offer more than 8 million hotels in 250 countries, and they are constantly adding new hotels. Expedia partners with over 4200 online travel companies around the world to provide you with guaranteed deals. It is also possible to find cheap flights, tours, and car rentals for your trip through the site's handy search tool.
Expedia is the oldest and largest online travel portal. They were founded in 1995 by CEO Dean Edell and CTO Mike Volz (who both left the company in May 2016) under the name "Evolva." Expedia was started with a $1 million investment from Sabre Holdings, Inc., an e-commerce solutions provider, with additional funding from T-Systems. The company was later renamed Expedia, Inc.
2. Priceline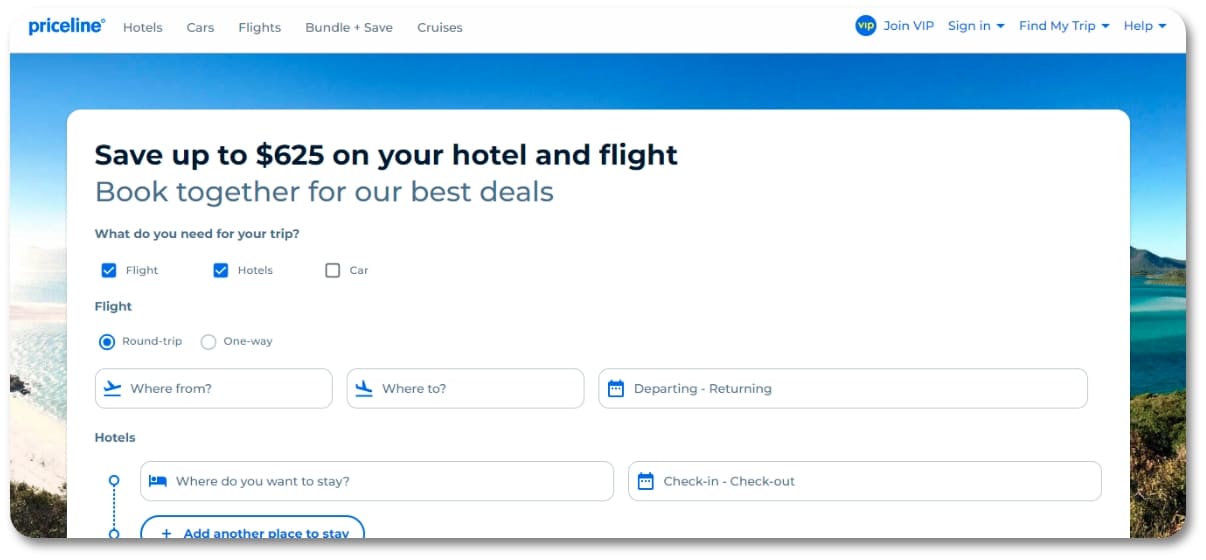 Priceline is one of the most popular hotels booking sites. The service will let you bid on specific hotel rooms, and you can save up to 60% off a hotel room. If you're looking for a luxury vacation or just a place to stay for the night, Priceline has just about any kind of quality accommodation that you could want.
When you search for hotels at Priceline, you'll be shown a map with the locations of your hotel from the center of your map. You can also click on a specific city to show only hotels in that city. You can then sort your results by price, name, or rating. If you click on a particular hotel, you'll see the hotel's name and distance from a location you choose within its area. On the left-hand side of the screen, there is an estimated discount on your hotel room.
3. Booking.com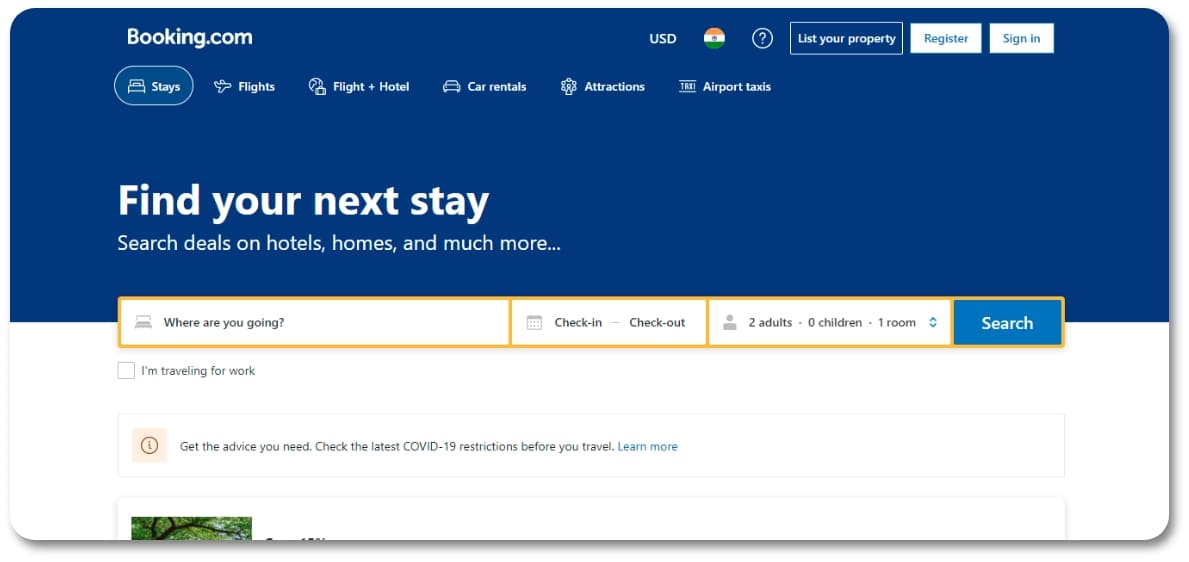 Booking.com has been around for quite some time and was initially started by Dutch company Priceline as an aggregator for hotels across the world, with lower-priced options given priority based on bidding in advance for rooms.
You can search for specific hotels or browse through listings and see what's available near you or elsewhere in the world (and if you're tight on cash, be sure to scroll through their Deals section).
4. Hotels.com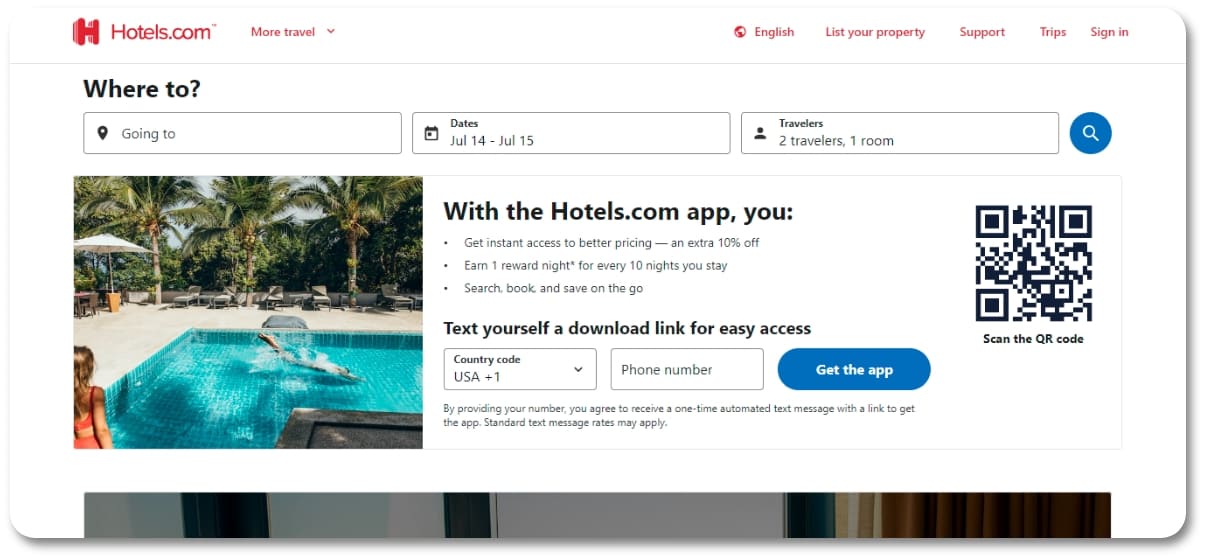 Book a hotel on the most popular search engine if you're looking for a new hotel to stay in. Hotels.com is a useful website that will help you find your perfect accommodation at the best possible price.
There are also many other features that Hotels.com offers, such as personalized touch tones and speedy check-in and check-out services – making it one of the most convenient ways to book your next trip right away!
Hotels.com is a website that offers you hotels and accommodation at all the best destinations in the world. Our directory features more than 350,000 hotels in over 1,200 destinations worldwide. Hotels.com brings you secure hotel bookings and professional customer care 24 hours a day / 7 days a week through our website, mobile apps, and call center.
5. Agoda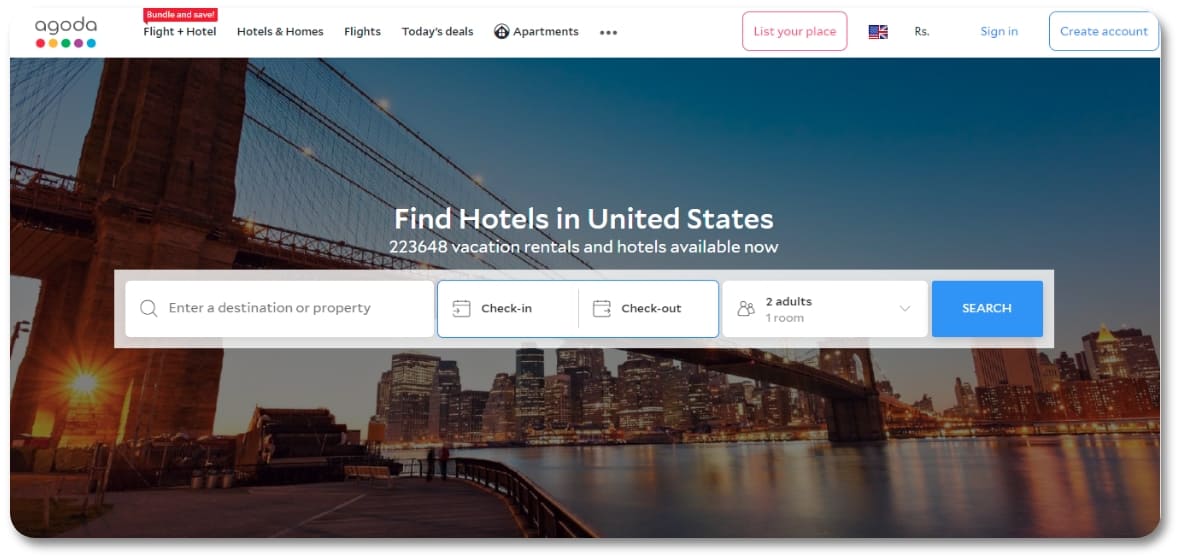 Agoda's mission is to connect travelers with the world's best hotels, providing a trusted and convenient booking experience from people to places. This quotation from their homepage sums up their dedication to providing travelers with the best experience possible. Founded in 2005, Agoda has become one of the largest and most trusted hotel booking platforms.
Their site is available in 15 different languages, offers a sleek new traveler-centric layout, and provides contact information for over 380K hotels in 190 countries worldwide. They have also recently introduced last-minute deals that provide travelers with some added flexibility when planning their next vacation or business trip.
6. Hotwire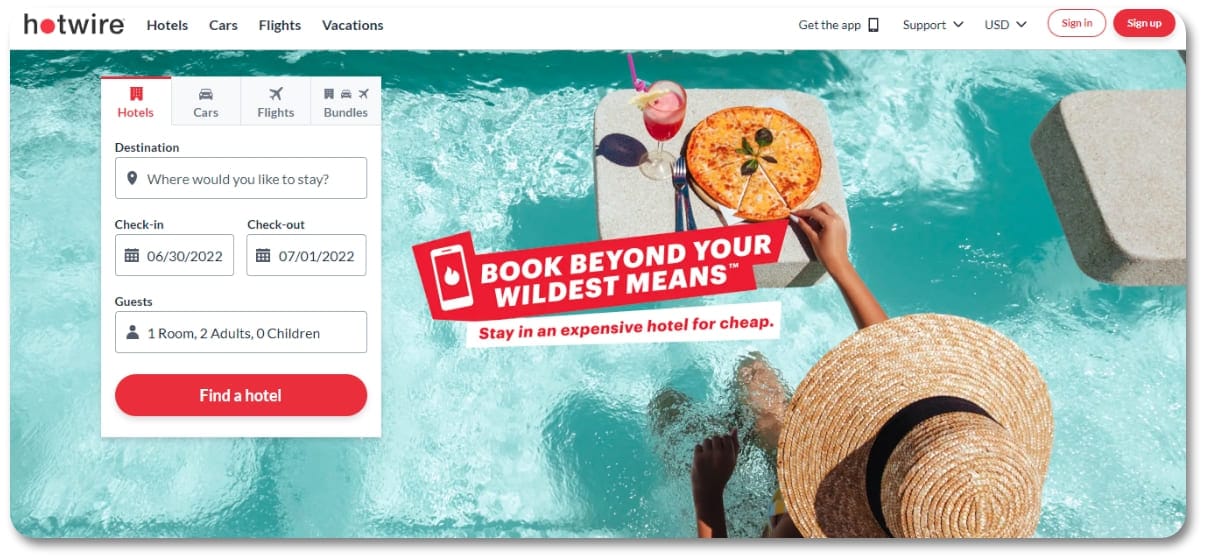 Hotwire has been the go-to site for travelers since 1999. It gives customers a fair, set price with no hidden surprises. Consumers can book hotels in over 27 countries and territories worldwide by referring to a world map on the website's homepage.
Upon booking, Hotwire sends consumers an email with their reservation number, hotel information, and pertinent details such as cancellation policies, emergency contact phone numbers, and directions to each property from the nearest major airport. Customers are also given access to customer service representatives 24 hours a day through live chat or telephone calls.
7. Kayak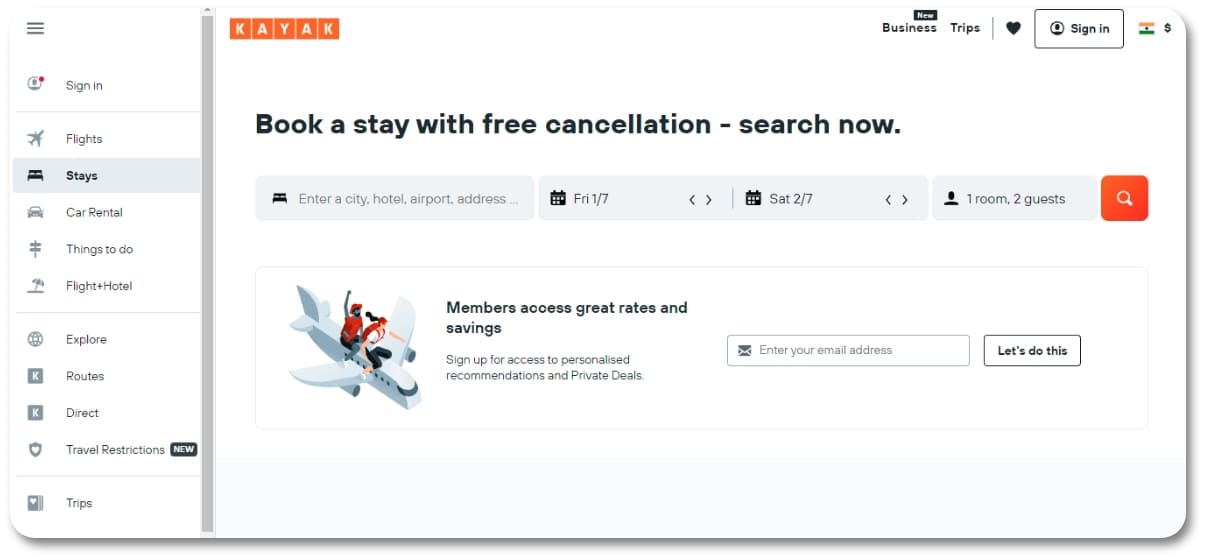 Kayak is an excellent hotel option due to its large selection and easy-to-navigate layout. To narrow down your search, you can compare hotels by location, price, star rating, and more. Once you've found a few options that suit your needs, just click on them to learn more about the amenities that each place offers and its prices for different dates. Once you've got the information you need, feel free to book your reservation with a few convenient clicks.
In addition to helping its users compare and book their hotel accommodations, Kayak also links to various websites that travelers might want or need while on vacation. In addition to its website, Kayak provides access to Google Maps and Bing travel searches, making it even easier for travelers to find what they're looking for wherever they may be in the world.
8. TripAdvisor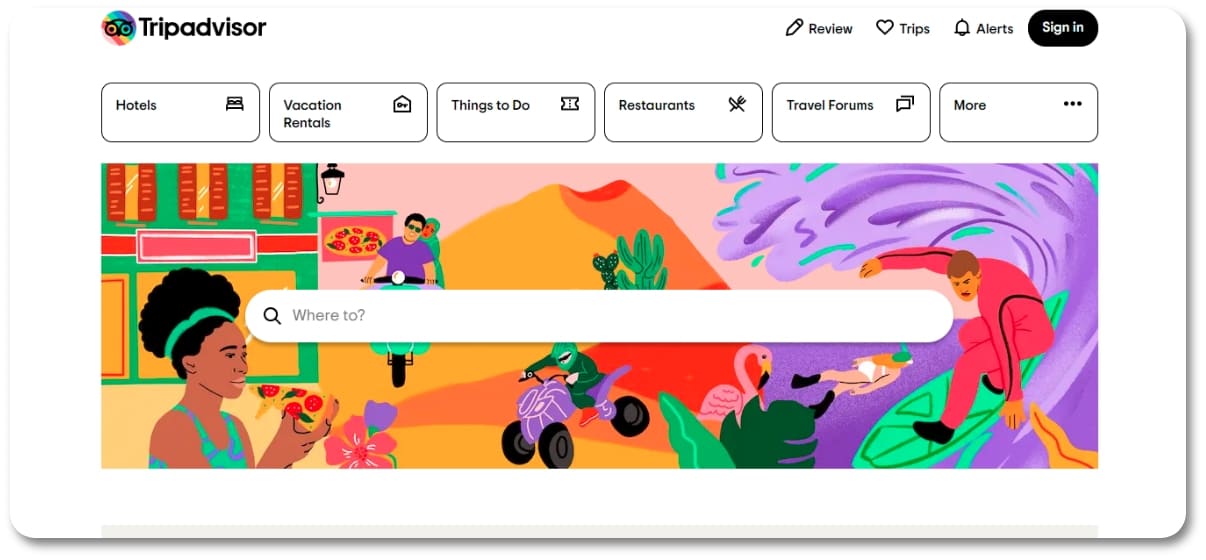 TripAdvisor was founded in 2000 by Stephen Kaufer, who was looking for a website he could use to plan his vacation but found that the information on travel sites at the time was complicated and sometimes biased. TripAdvisor makes it easy to find information on popular destinations around the world. The site has grown over the years and now offers flight booking as well as hotel booking. The company has 22 million registered users and has expanded to over 67 countries.
TripAdvisor, one of the oldest and biggest websites of its kind, is a website that lists travel reviews from people who have traveled to a particular place. It has been around for years and is generally considered trustworthy.
It's no secret that the hotel search industry can be challenging. Still, TripAdvisor makes it much easier by pulling all relevant information on places like accommodations and restaurants based on your preferences. It also has reviews from people that have stayed at the hotels and claims to eliminate fake or unhelpful reviews. While this might not be entirely true, one thing is for certain: their search results are outstanding and easy to navigate.
9. Google Hotel Finder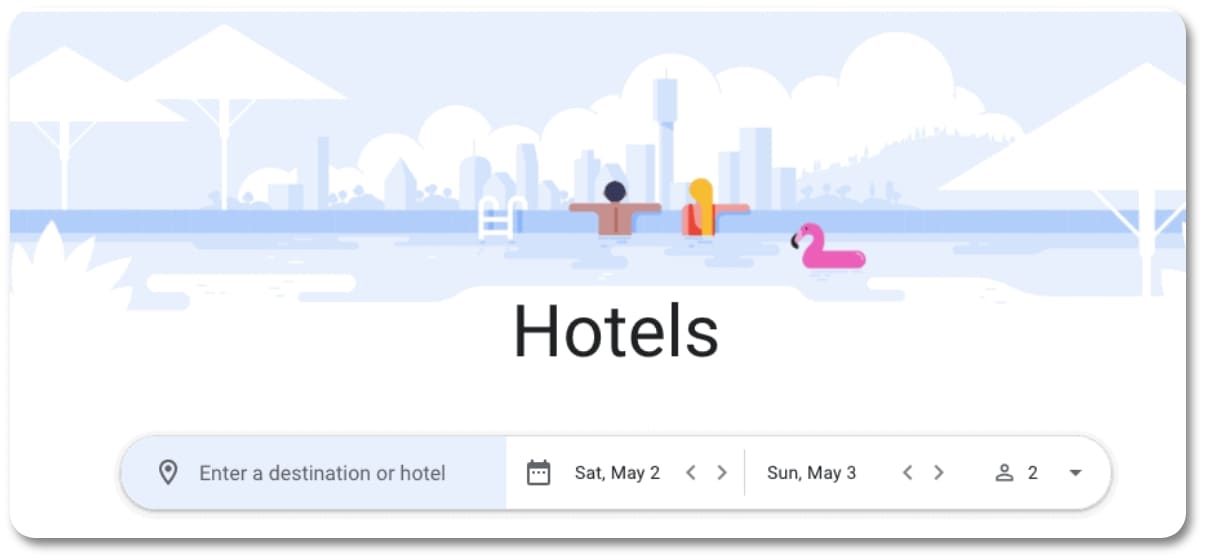 Before Google Hotel Finder was around, travelers' only option for finding hotels was through conversations with friends or expensive travel agents. Now, travelers can take a few minutes to find hotels that suit their needs without spending hours searching and comparing prices.
Here's how it works:
Enter your destination, destination city, departure date, and several guests in your party. Select the number of nights you'd like to stay.
Enter your desired dates of travel. Read hotel reviews and descriptions. If you're ready to book, click on the Reserve button.
If you need more time to decide or just aren't sure yet, click the Go Back button at any time and try booking again!
You can also view hotels in another city by clicking Change Destination City.
Cancel your reservation anytime by selecting Dismiss Reservation.
10. Skyscanner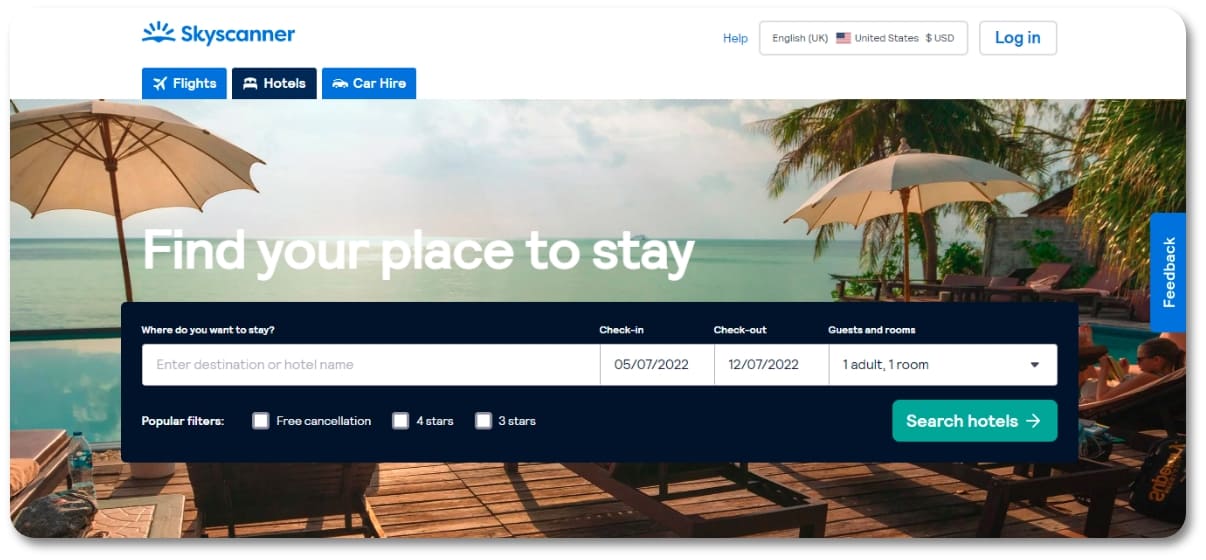 Skyscanner is a website that helps hotel owners and travelers get the best prices on hotel rooms. It offers hotel room availability, price comparison, calendar search, and map search features.
It has won numerous awards for technological innovation and originality and has been named among the top 100 startup companies by Forbes Magazine. In addition to its awards and recognition, Skyscanner's service has been recognized by travel experts including Lonely Planet Magazine which ranked it first for trusted online booking sites for budget-conscious travelers in 2015.
The company's offerings help travelers find more excellent value in all types of travel, from domestic and international rental cars to cruises. It offers services such as price comparison, calendar search, and map search to help travelers book all types of travel for their next trip. The website, based in London, has a quarter million users worldwide, three million listings, and almost 1.5 billion searches per month.
Users can either search for hotel rooms by keyword or choose an area such as "Anywhere" or "Europe." They can also browse by price, several stars, location on a map, or any common categories they are interested in, such as family vacation packages.
11. GetARoom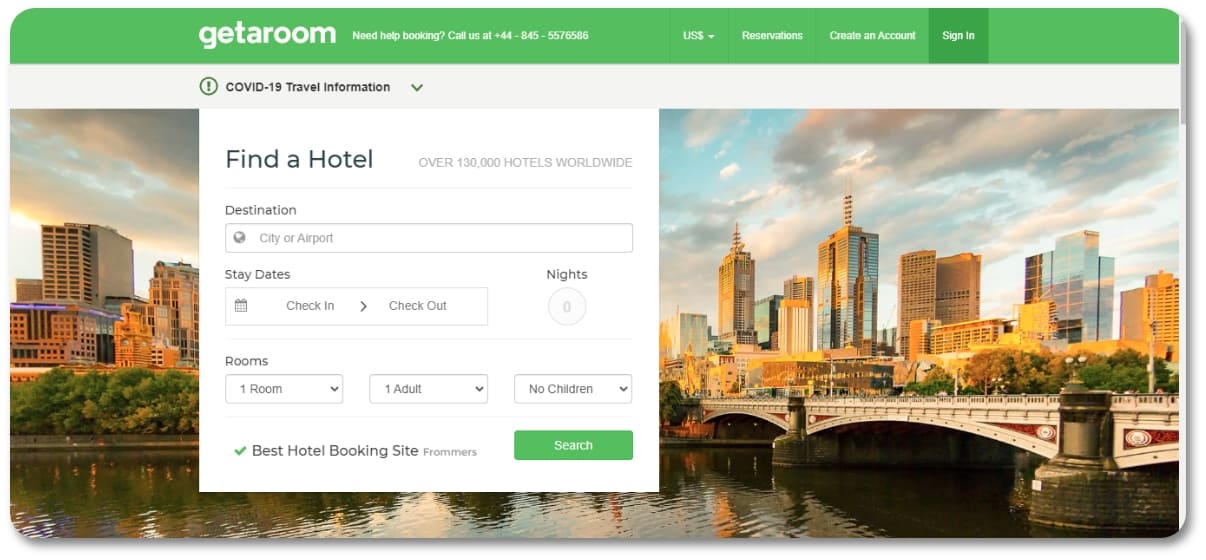 GetARoom is one of the best hotel search engines we've found, and they are by far our favorite way to find good deals on hotels in more than 100 countries around the world. So whether you're planning a last-minute trip or getting ready for that summer vacation, it's time to stop looking at pricey websites and get booking with GetARoom!
What makes this site so great? First off, it has more than 100 million hotel rooms available in more than 45 languages! This includes everything from budget motels to upscale resorts so that you will be covered, whatever your needs are.
Since GetARoom lists many hotels worldwide, you'll find the place you need for the best price. You won't have to worry about booking a hotel in obscure places because this site will find you everything from safari lodges to beachfront properties. And with a search that is easy and precise.
12. Trivago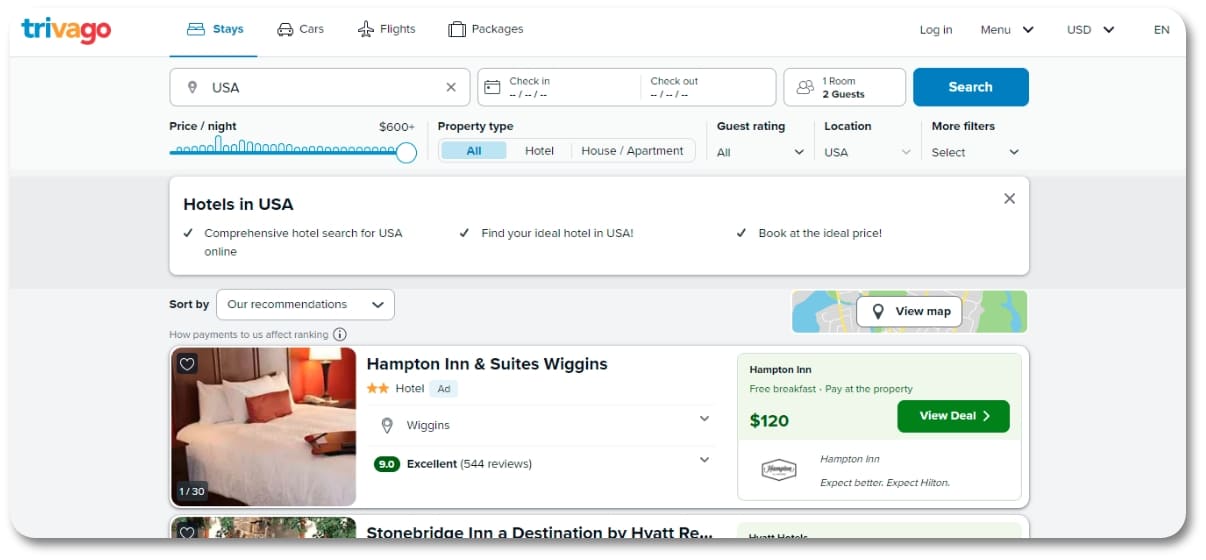 Trivago is one of our favorite hotel search engines as they offer discounts and offers on more than 45 million hotels worldwide!
Perhaps our favorite hotel search engine, Trivago, is a great place to find hotels in the UK and other countries around the world. The site is easy to navigate, and they also provide a selection of great offers, deals, and discounts that will allow you to save some money on your next trip. This site has been designed with the user in mind to quickly find a hotel based on your budget, location, or facilities that you are looking for, amongst other options. Trivago provides an excellent service that is entirely free, and it shows all of the prices from different travel sites at once.
13. Orbitz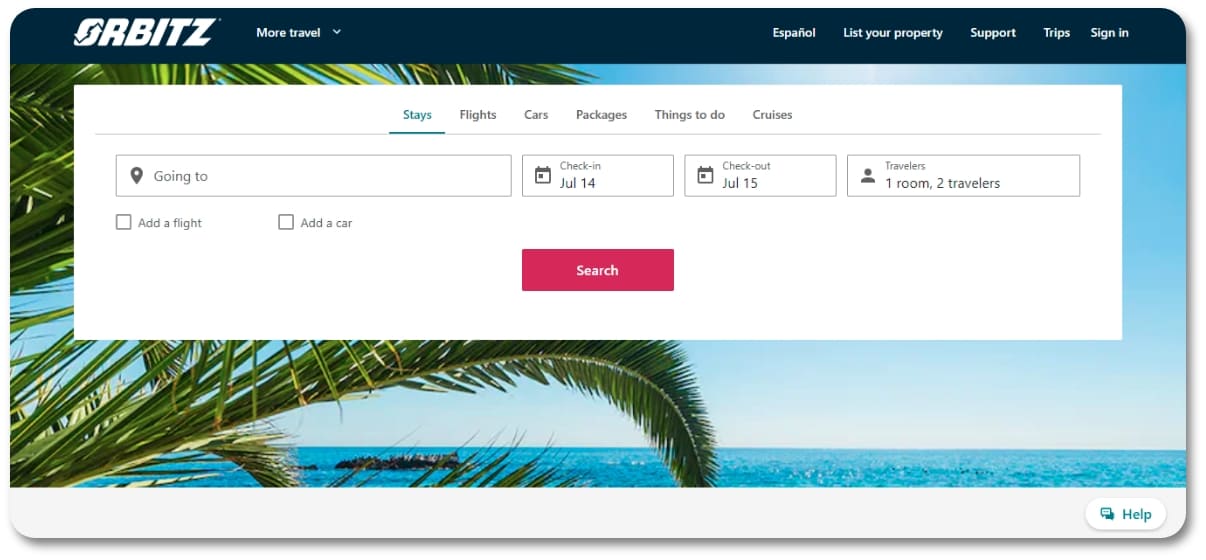 Orbitz is one of the top hotel search engines around, but they cater to more than just finding and booking hotels. If you run into trouble booking on the site, they offer everything from a mobile app to in-room entertainment. Orbitz is available in 180 countries and provides free WiFi where available. They also offer discounts on parking and even restaurants!
If you're looking for a reliable and affordable hotel search engine, use Orbitz.com! This website allows you to explore travel packages, view photos of properties, compare prices with similar establishments, and make reservations without ever leaving your desk chair.
14. HotelsCombined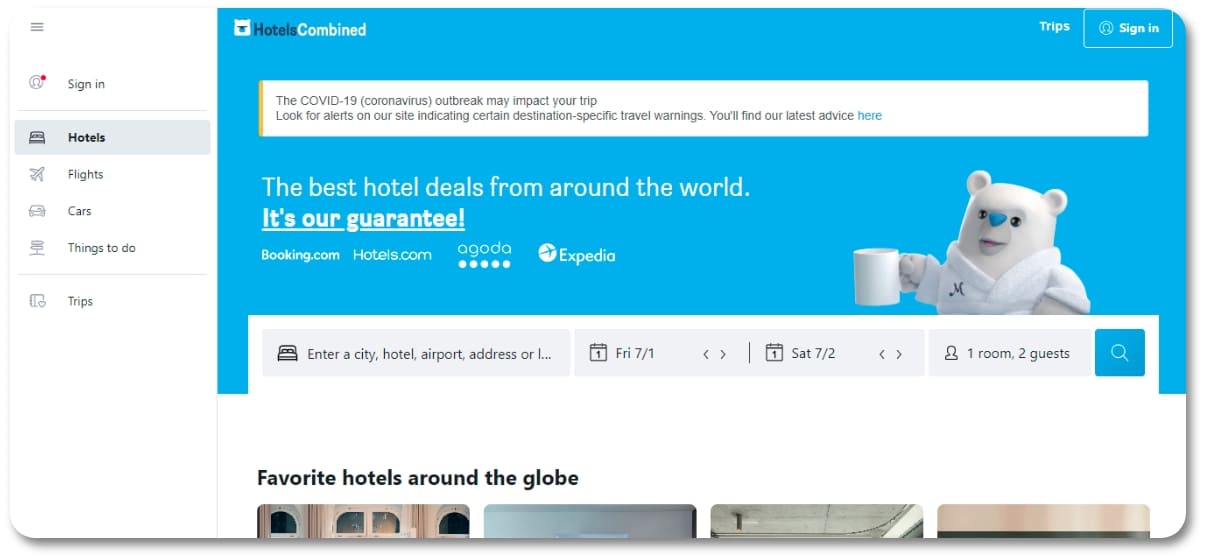 HotelsCombined is one of the most popular hotel search engines globally and has been helping travelers since 2007. With over 500,000 holiday properties to choose from worldwide on this website, visitors have access to more than 4 million rooms placed in 1,200 destinations around the globe.
HotelsCombined.com has been an active site on the internet since 2007. It offers an array of hotels from around the world at a very affordable price. The hotel booking website also provides a travel tool that helps users compare hotels and amenities for any city considered for their vacation, business, or conference travel.
15. HotelTonight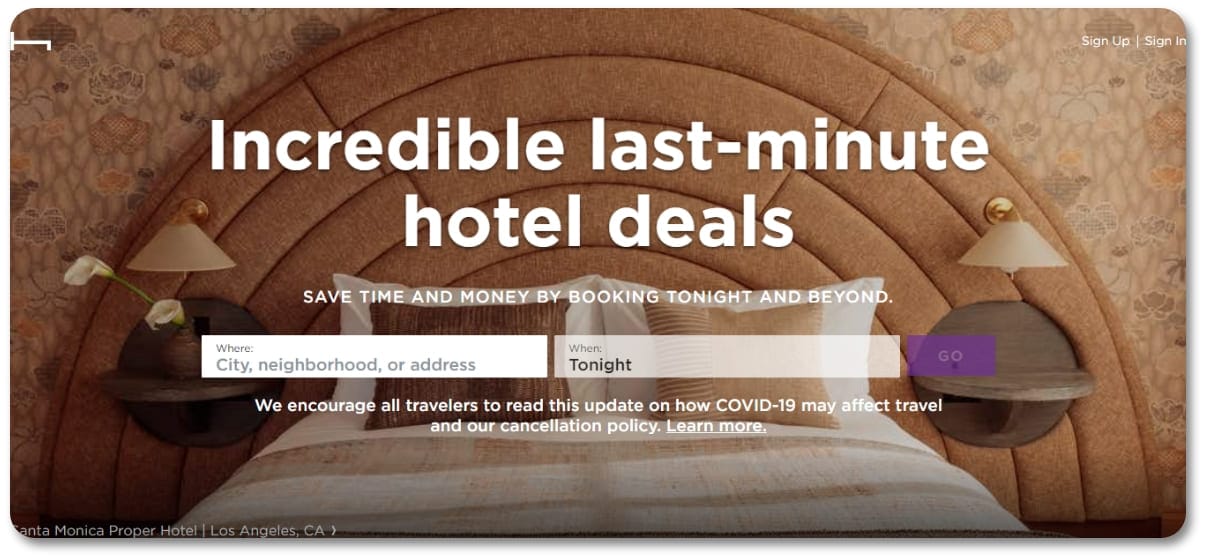 HotelTonight is the leading online hotel search engine. It offers a user-friendly interface for booking hotels based on location and customer needs. This website allows you to search for and book over one hundred thousand hotels available at over three thousand properties worldwide. HotelTonight also features great deals on last-minute trips, inexpensive rates, and exclusive offers that never expire.

Conclusion
A hotel search engine is an information platform that consists of various listings, reviews, and prices. They are helpful for aggregating listings from different sources on the internet and providing them in an easy-to-search format.
As technology advances with more user-friendly interfaces, their purpose has changed from just showing listings to providing helpful tools for travelers like tours or reservations for hotels and flights if you need one. Nowadays, many companies have built their own hotel search engines to provide detailed information about their products as well as competitors' offerings.