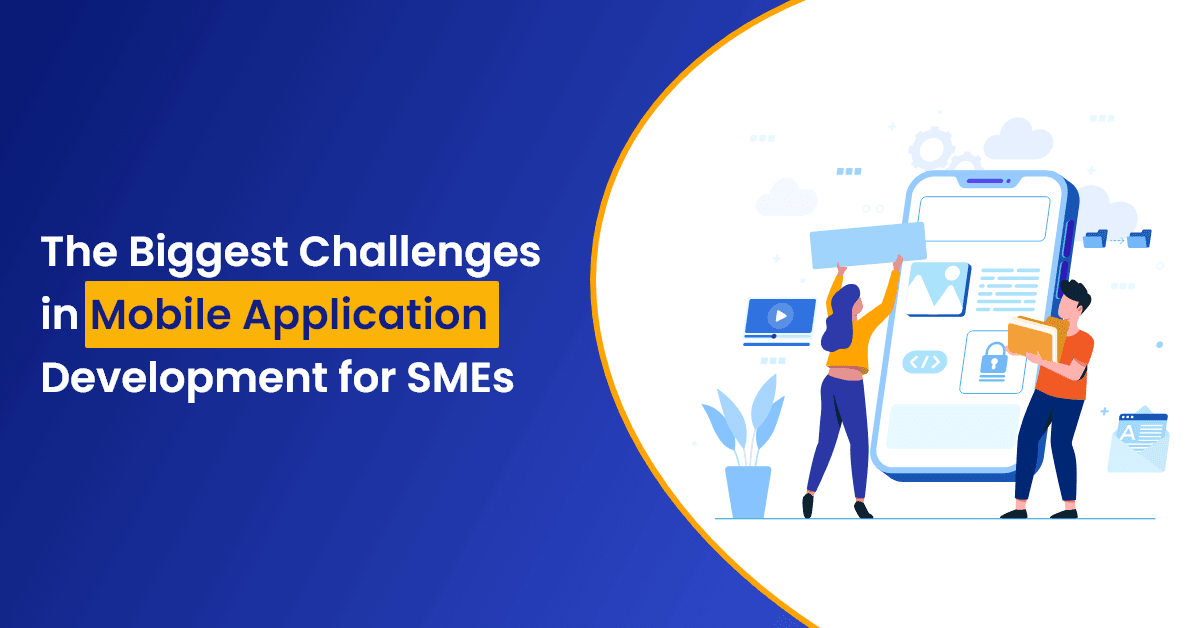 Overview of Mobile App Development for SMEs
There are more and more tech-driven companies around the world with advanced technologies. With the increasing use of smartphones, most companies are now investing their money in mobile app development to take advantage of the growing demand for applications among users around the world.
Apps are much more convenient to use than websites and these traditional ways of getting things.
The ease of purchasing and using products and services through these online platforms has made companies opt for these products like never before.
Investing money in an app is the best way to give your business a competitive edge right now.
Most entrepreneurs have already created a mobile application for their company or to develop their business strategies.
Understanding the challenges and finding strategic solutions to overcome them are very important. When developing a mobile application, the focus should be more on "what not to do" rather than "what to do".
The Challenges in Mobile App Development for SMEs
Most SMEs come across several challenges when planning and looking for new mobile application development. Here are some of them:
Application Competition
Due to the increase in the number of applications developed, there is also a proportional increase in competition in the industry.
Mobile app development companies are under constant pressure to create apps to stand out. At the end of the day, SMEs want people to download their apps or product.
The optimization of the App Store (ASO) is a crucial step for the dissemination of a promising application in the world.
Just like SEO, ASO involves the use of keywords and phrases to direct the user to a product.
The main purpose is that you want your product to appear when searching for a term using search engines such as Google.
You can view competing apps in the term you are looking for.
Another important aspect to take into account is icons and colors.
The first thing that catches the attention of any user is the icon used.
Try to enrich the look and make it more attractive to entice the user to click on your app and download it.
A good UI/UX design and development can make this part easy.

Choosing the Right Application Development Technology
Choosing a constructive, fundamental, and appropriate application development platform or technology is always a difficult task.
You have to think a lot and take several factors into account before deciding whether it will be a hybrid, native, or cross-platform application.
There are countless technologies available today to choose from.
But it would help if you had a thorough understanding of the pros and cons of these technologies to choose the right one for your project.
Choosing outdated technology can ultimately result in a poorly performing application.
So make sure you understand and select the best one.
The Development Approach
The world is big and so are mobile apps. You are spoiled for choice before you start. Remember, it's important to get off on the right foot.
There are many mobile app development platforms.
So from the start, you need to be sure about your development approach and you need to set time limits for yourself in this context as well.
With the development approach, you need to consider the nature of your business and your future plans to decide whether you want to go for hybrid, native, or even just web-based development.
The Start-up Budget
In the business creation phase or in start-up mode, financial resources are very tight and the development of your first application often represents a significant part of your budget.
We know how to take it into account to provide you with a budget that meets your needs as closely as possible, taking into account the functional specifications.
Being entrepreneurs ourselves, we are particularly attentive to this point, to offer you a service with a very good quality/price ratio taking into account the start-up context.
Device Compatibility and Screen Size
Every business wants to make a strong impression on users. After all, the future of the app depends on the mobile experience of your customers.
Device compatibility is perhaps the most important factor for a mobile app.
Make sure that your app provides flawless service, regardless of the type of device.
The selection of the operating system is also very important. iOS and Android require a different development processes.
Therefore, prior to building a mobile app, a business owner should research the nature of their business and target audience before making any decisions.
You should also make sure that your app works on a smartphone, as well as a tablet and other devices.
You have to pay close attention to various aspects including resolutions, screen sizes, and densities.
Preserve the Performance of the Mobile Application
It is very important for a business to stay strong in order to thrive in its respective industry.
There is a big difference between just an app and a good app.
There are many great apps out there, but after a few months or years, they can become outdated.
The most successful apps are those that last a long time and generate income.
The first thing to target is the attention of your potential users.
For this, you need to make sure that you have put everything that the user expects in your application.
As a business owner, you need to have specific knowledge about promoting apps.
For a successful application, you need to have the right strategy to effectively enter the market.
Financial Investment
Another common challenge when building an app is budget.
It is very important to have a precise idea of ​​the overall cost involved.
It is not a one-time investment. Your app will cost you money in the long run.
You need to do extensive market research before you finalize your mobile app development.
It's not just about needing a mobile app for your business, it's about the need for a powerful mobile app and quality work.
You will run into a lot of hurdles as you enter the mobile app market where the number of competitors is large, funds are always a concern, and app success is the only goal.

Wrapping Up
Many businesses have failed simply because they couldn't meet the challenges and couldn't offer anything new to their audience.
Hence, it is necessary to partner with an experienced mobile app development company.
OneClick IT Consultancy is a leading app development company across the USA and Europe and has helped both SMEs and large enterprises scale to new heights.
Connect with our team for a demo and no-obligation quote for the cost to develop your mobile application.