Technology
Tableau vs Power BI: A Comprehensive Comparison and Key Features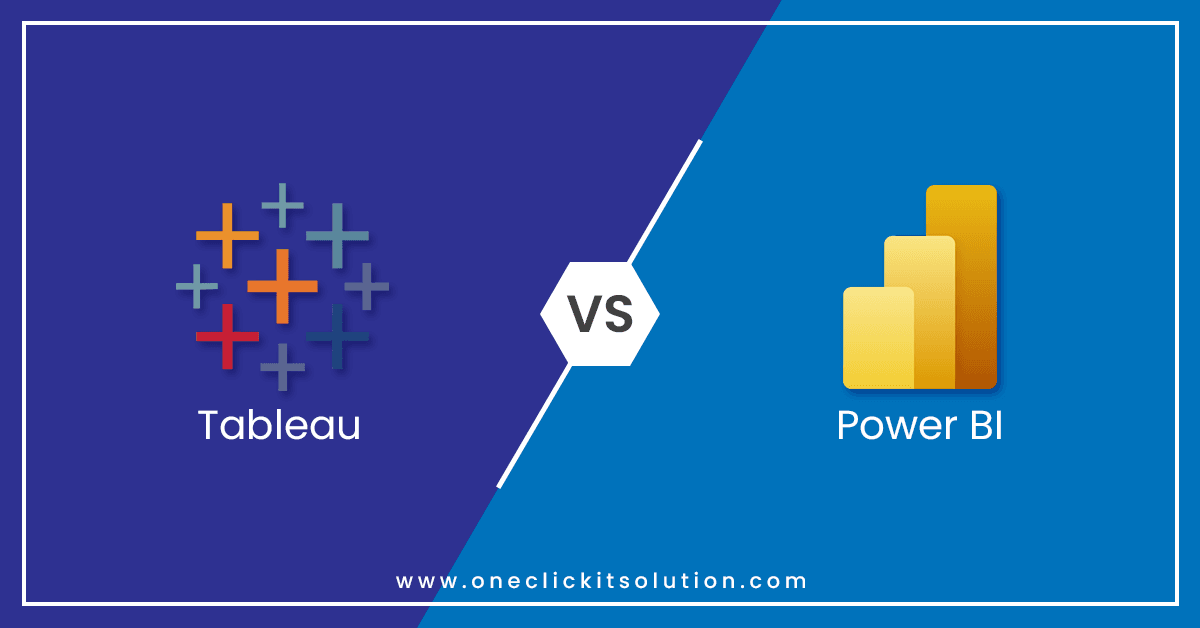 Introduction
If you're running a business or thinking about diving into the data world, you already know how vital analytics are. They're like the secret sauce that fuels success! Whether you're a small business or a unicorn, studying customer trends and growth patterns is key to staying ahead of the game. But with mountains of data to sift through, who has time for that?

That's where business intelligence tools come to the rescue! These tools help collect, store, manipulate, and visualize data, transforming boring numbers and words into eye-catching charts and graphics. The best part? Anyone can use these tools, even without technical knowledge, to gain valuable insights and drive business growth.
Get ready to unleash the power of Tableau vs Power BI, two renowned business intelligence tools that will take your data analysis to the next level.
What is Tableau?
Tableau, developed in 2003, is a powerful data analysis tool that transforms raw data into captivating visualizations. Its user-friendly interface makes it accessible to everyone, regardless of their programming skills. With just a few clicks and drags, you can create stunning dashboards and a variety of charts like line, bar, and pie charts. You can also perform custom calculations, generate reports, and work with worksheets tailored to your needs. Tableau also supports data cleaning and transformations, and it seamlessly connects to various data sources, unlocking valuable business insights.

Products offered by Tableau are:
Tableau desktops -> creating and publishing visualizations
Tableau server -> to maintain a common repo of visualizations across an organization
Tableau prep -> cleaning and preparing data for analysis
Tableau online -> data is stored on servers hosted in the cloud
Tableau mobile -> can view dashboards on mobile devices
Tableau public -> anyone can view and access the files present
Features of Tableau
Data visualization – offers a variety of charts, graphs, maps like histograms, gantt charts, motion charts,boxplots to create highly interactive dashboards and stories using layouts and formats, data highlighting and sorting.
Effective drag and drop functionality and toggle view.
Data preparation – allows you to clean and reshape data.
Data sources – can connect to various data warehouses, relational and nonrelational databases, cloud data, big-data, real-time data, excel, json file, text file, etc.
Data modeling – offers custom data calculations and measures, KPI's and lets you create relationships between various data sources.
Data blending – various sources of data can combine to form interactive dashboards.
DAX analysis function – provides function to perform advanced calculations and queries on data in related tables and columns.
Data connectors – can connect to sql server, hadoop, google sheets, dropbox, salesforce, etc.
Natural language processing (NLP) – it has NLP support to help you with creating dashboards.
Collaboration – allows you to share your dashboards over organizations and let other people collaborate on it and can be connected to various apps like google drive. Helps translate queries to visualizations easily.
Provides really great security.
Tableau Pros
Offers a wide range of charts, graphs, and other visualizations which makes it stand out in data visualization capabilities.
Flexibility of choosing over and connecting a wide range of data sources including cloud data sources.
Personalization and customization of dashboard, reports and stories according to one's business needs.
Able to handle large datasets with easy visualizations making it very fast and efficient in use.
Android and IOS device support.
Less cost of training and easy to learn and use.
Provides support to R and python languages.
It has a centralized data repository.
Powerful community support making it easy to learn.
Tableau Cons
It can be a little expensive comparatively.
It cannot handle real-time data very effectively like other tools available.
Learning Tableau can be a little difficult for beginners.
Difficult to integrate with Microsoft BI services.
To perform various complex calculations, training is required which in turn increases the overall expenditure.
Importing custom visualizations and reports to other applications is a little tough.
Does not provide support for AI & ML tools
No version controlling

What is Power BI ?
Back in 2015, Microsoft introduced Power BI, a fantastic service that has revolutionized the world of business intelligence. With Power BI, you can create interactive dashboards and on-the-fly reports that work seamlessly on different devices. The best part? You don't need to be a tech guru to use it! The user-friendly interface makes it accessible to everyone. You can connect it to various data sources, clean and integrate the data, and visualize it in a snap. It's like having a crystal ball to predict business trends and analyze large datasets. Plus, you can easily share insights by connecting with other Microsoft tools you use daily.
Products offered by Power BI are:
Power BI desktop -> used to generate reports and dashboards.
Power BI report server -> used to host all kinds of generated reports and KPI'S.
Power BI data gateway -> connection between Power BI service and direct, live query.
Power BI service -> it provides online SaaS (Software as a service) which is used to collaborate and distribute dashboards, data models and reports.
Power BI mobile apps -> app to view reports and dashboards with the help of Power BI report server.
Power BI embedded -> reports, dashboards and other visuals can be embedded into applications with this service.
Features of Power BI
Data visualization: it also provides a variety of data visualization tools like charts, maps, graphs, etc.
Data explorations – can help you create various filters, hierarchies and drill into data points.
Data sources – It can connect to a wide range of data sources including datasets, dataflows, SQL Server, etc and also real-time data sources like Azure Stream Analytics and Power BI streaming datasets.
Data modeling – offers custom data calculations and measures, KPI's and lets you create relationships between various data sources.
Data transformation – allows you to clean and reshape data.
It provides DAX functions (Data Analysis Expressions) which are predefined code to perform analytics-specific data functionalities.
Natural language processing (NLP) – it has NLP support to help you with creating dashboards.
Collaboration – allows you to share your dashboards and reports over organizations and has smooth integration with Microsoft products
Easy mobile access
It is easy to use
Custom charts with R and Python and Integration with Azure machine learning
Power BI Pros
It provides drag-and-drop features making it easy to use without technical knowledge
Connections to various data sources can be very secure and reliable
Easy to learn, can use DAX query language provided by it and also write and execute queries on datasets.
Better ETL(Extract, transform and load) capabilities than other BI tools
Real-time dashboard updates and reports refresh available once published to server
Deployment can be done quickly in a secure environment
It has support of NLP(Natural language processing) which helps in data exploration
Integration with various microsoft products like excel, sql, sharepoint, azure is very easy
It has a free version and low-cost subscription making it very cost-effective.
Support of query editor to manipulate data before it is loaded into Power BI
Power BI Cons
Customizations options and data sources available are very limited comparatively
As it is a microsoft product, its some features has dependency over other microsoft tools
User interface sometimes may not be up to mark and clash with reports view
Compatibility with IOS has limitations
Excel integration has limiting rows capacity
File size imports has limit up to 1GB
Working with larger database and complex features may run into trouble
Difference Between Tableau vs Power BI
Explore the distinctions between Power BI vs Tableau, two prominent data visualization tools, to understand their unique features and capabilities.
| | |
| --- | --- |
| Tableau | Power BI |
| Owned by salesforce | Microsoft product |
| Requires training and experience and some point | Can be utilized by both experts and beginners as it is easy to learn |
| Can run on Windows and MAC | Can only run on Windows |
| Better at data visualization and has user-friendly interface | Data visualization is relatively less optimal in comparison, and the interface requires some time to become proficient. |
| Variety of customization options available | Limited customisation options available |
| Can connect to wide range of data sources like cloud-based databases and web services | Boasts a seamless integration with Microsoft and its suite of products, including Excel and SQL Server |
| Can effectively handle large amount of data and fast processing | Ideal for handling smaller data sets owing to its faster data processing capabilities. |
| Uses MDX for measures and dimensions | Uses DAX for calculating and measuring columns |
| Not as robust as Power BI in terms of data modeling | Provides impressively robust capabilities in data modeling and ETL (Extract, Transform, Load). Hands down, the better choice, for data analysis |
| Can easily be integrated with programming languages like Python and R | Needs external tools to integrate with programming languages. It supports R language-based visualizations. |
| Can be a little expensive for small to moderate level business platforms | Provides a higher cost-efficiency, offering both free and affordable solutions. |
| Larger community support | Relatively limited community support |
Conclusion
Congratulations, you're now armed with the knowledge of two game-changing business intelligence tools: Power BI vs Tableau. It's time to put that knowledge into action and watch your business soar to new heights. Power BI vs Tableau tools boast powerful features and intuitive interfaces, allowing you to dive deep into your data and emerge with game-changing insights.
Whether you're a newbie venturing into the data world or a business owner seeking to streamline your operations, these software solutions can be game-changers for you. When choosing the right tool, ask yourself some key questions: Is it cost-effective? Does it fit your use case? Can it handle large amounts of data? Is it flexible and easy to integrate?
If you feel you're ready to embark on a data-driven journey, Tableau might be your go-to with its flexibility and an array of impressive features. On the other hand, if you're a business owner seeking simplicity and cost-effectiveness, Power BI could be your perfect match. Ultimately, the goal is to gain valuable insights and get the job done right.
The decision is in your hands now. Choose the tool that aligns with your needs and embark on a data-driven adventure that will unlock endless possibilities!