Travel Development
Why Choose White Label Travel Portal Development for your Travel Business.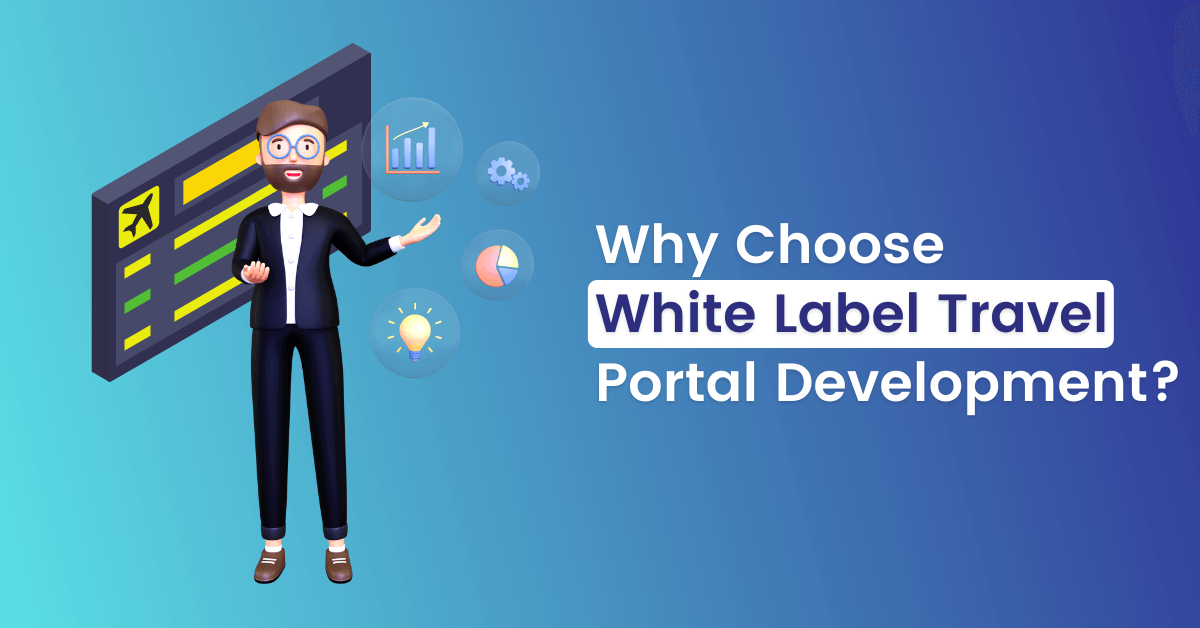 What is White Label Travel Portal Development?
You plan to enter the highly competitive travel industry. As you are in the launching phase and your brand is not yet known to the public, it is obvious that you wish to benefit from the model and know-how of OTAs or travel businesses that already enjoy a reputation in this sector.
Also, start-ups and middle or small-scale businesses constantly face the budget monster. The constant dilemma of lack of high budgets but the desire to create a competitive travel portal exists. White label travel portal development helps you resolve this issue.
The entire software infrastructure, as well as the technical and commercial expertise, is already in place, you are only buying a ready-to-use solution for your own brand. In simple words, white-label solutions involve customizing the design and layout of a readymade travel portal.

6 Reasons to Adopt White Label Travel Portal Development
1. Save Money
Choosing a white label portal development service is one of the most economical solutions for small and middle scale businesses. By offloading the development of your own tools to a white label portal development company, you can reduce costs related to the research and development of the portal. In fact, the company does not need to invest or have additional costs (like web development, for example), because the service is already created, finalized, and ready to be used.
2. Save Time
The particularities of certain sectors like travel mean that agencies are jostling to quickly position themselves. However, in this situation, you will not necessarily have the time it takes or all the necessary skills to develop all the tools you need yourself. By opting for the services of a white label travel portal development company, you will benefit from the technical expertise and solutions that have proven to quickly meet the needs of your customers. So there are no more puzzles for you.
A white label service saves time spent on a project. The external service provider takes charge of all the services offered, in particular piloting and project management. There is no longer any need to spend time looking for experts in a field for data aggregation and analysis. The service is accessible and available instantly.
3. Provide Quality Service
The core business of the company can be in a particular niche but using white label portal services helps the travel agent or business to expand its offerings. For instance, a train booking agency can opt for white label solutions which can help them offer their customers everything from flights, hotels to other touristy activities. The white label travel portal effectively provides a service offered by specialists in the field, with an established level of expertise and unique know-how. It is, therefore, the solution to meet certain needs of the company, which it cannot fulfill on its own.
4. Offer Innovative and Scalable Solutions to Your Customers
A white label portal offers you the benefit of exploring innovative solutions along with the advantage of cutting-edge technology. This, in turn, helps you enrich the offers provided to the customer and also helps you launch your brand in newer niches.
5. Increase Customer Satisfaction and Retention
A white label travel portal offers customers more choice. It is a hotel booking engine, flight booking, train booking, and activities booking engine all under one name. This plethora of services increases customer satisfaction due to the ease and comfort of getting all the information in a single portal. Due to the excellent navigation and booking experience provided, along with competitive rates for all bookings, customer satisfaction and hence retention is at an all-time high.
6. Boost the Reputation of the Company
While the designs and templates are common to other travel businesses, white label travel portal development is done for your brand. You can customize it to reflect your brand value and flavor. Thus, a white label travel portal with increasing your visibility and allow your customers to experience the new services that you offer.
Why Choose White Label Travel Portal Development Services?
The possibility of choosing the offers best suited to your needs
The opportunity to create your own travel portal, customized as per your taste, to ensure the sale and generate turnover
The provision of detailed report and analytics modules to track customer data and sales history
A multi-supplier base for hotel, flight, car, train, and activities booking engines
Dedicated support thanks to our proactive team
For more information on our white label travel portal development services, do not hesitate to contact us for an estimated cost.