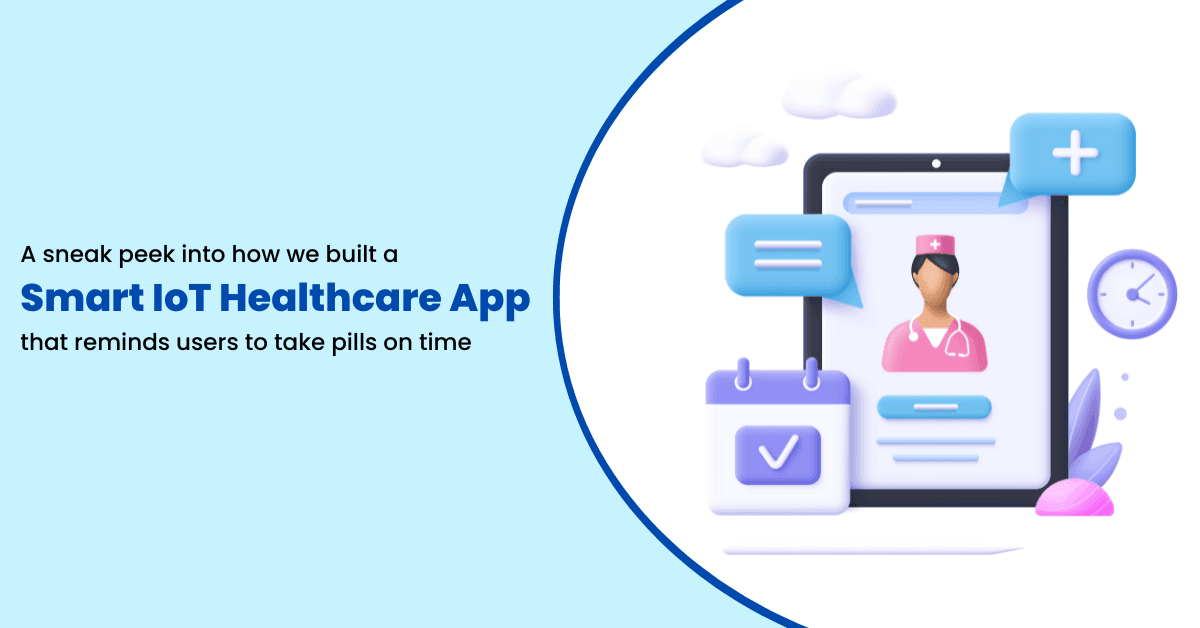 About Pill Reminder IoT-based App, Built by Us
It is a custom IoT app that reminds users to take pills – medicines daily. It reminds them both on the phone and the pillbox. Additionally, the IR sensors track pill consumption and notify users to refill pills. What an organized way to take care of your health! What's more? Let's run through its key features and benefits.
Our Approach to Build IoT App for Healthcare, Off the Curtains Process
Step 1: Study the client's requirements
Before kick-starting the project, we follow the practice of studying clients' business goals with their requirements.
Step 2: Analyse requirements
Up next, our app developers start analyzing current market trends, and the feasibility of overall project requirements, and provide budget-friendly – custom ideas to clients. Based on them, we move forward with a project plan.
Step 3: Create a project plan
After understanding the client's requirements thoroughly, our team creates a final project plan and gets geared up for the client's valuable inputs.
Step 4: Get the client's feedback
We staunchly work on the client's feedback – suggestions – changes and finalize IoT app development.
Step 5: Develop an IoT app
Time to give heads up! As discussed, we kick start building custom IoT apps based on timelines and milestones.
Step 6: Weekly updates
The work doesn't end here. We go the extra mile to give weekly updates to our clients, wherein our team dedicatedly discusses their views and amends changes as needed.
Pill Reminder App Features, IoT Unlocking Innovations
Push notification: Get notified before taking pills
Organizing pills: Organise pills weekly just in seconds
Schedule pill time: Schedule / Reschedule time to take pills
Add/Edit pill: Add pills or rearrange them when needed
Customizable LEDs: Change LED colors based on different pills & days
Custom pill reminders: Personalised pill reminders (for premium plans)
Snooze pills to delay: Snooze morning-evening time as needed
Last 7 days tracking: Keep a track of pills taken in the last 7 days
Pill Reminder App Benefits, Perks of Using IoT-Based Apps
You can easily keep a track of your pills. (certainly, your helping hand.)
You can instantly refill your pills on or before time. (Oh, that savior!)
You can timely create a weekly plan for pills. (much-needed on-the-go reminder.)
Do You Know?
Here are the top 4 key players in the IoT operating systems leading in the market include,

Want to know more about other players? Take a look at this.
Hire IoT Developers With Rich Experience & Expert Skills
Hiring the right developers can be painstaking at times. However, our flexible hiring models will help you opt for the dedicated app developer for your dream project.
Having possessed an extensive experience in custom IoT app development, our certified developers always strive to build on-demand IoT apps as per clients' business-oriented goals and requirements.

We Are Also an IoT Development Company, a Collective of Technocrats
OneClick IT Consultancy is an industry-leading solution provider building robust IoT apps for diverse industry verticals globally. We use proven methodologies, and unique tech stacks and adopt new technologies to stay ahead of the curve.
Let's connect
If you are keen to bring your ideas to reality with IoT solutions, then shoot us an email. We are all ears to take your thoughts ahead. You can also book a free consultation. Our custom IoT app development team will revert you shortly.