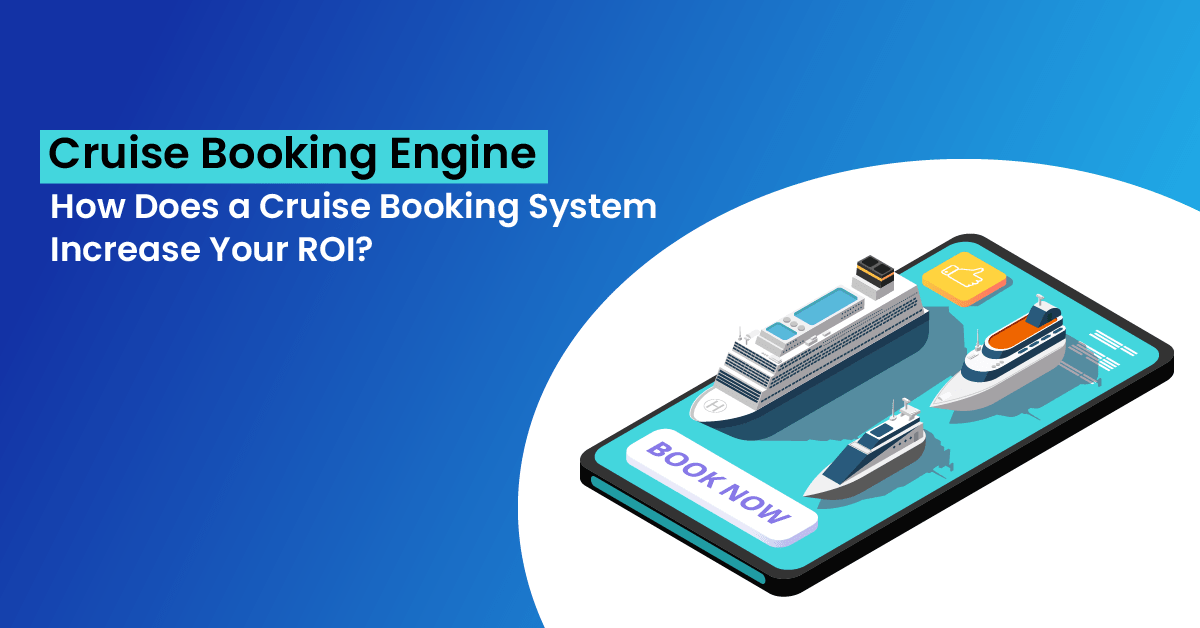 Introduction of Cruise Booking Engine
Traveling around the world by sea on a cruise is an exciting and fascinating experience.
The number of cruise liners is expanding at regular intervals due to the tremendous increase in the popularity of sea adventures and regular demand for cruises.
In such a competitive market, reaching targeted clients would necessitate a dependable source.
An online cruise booking engine would be beneficial to cruise operators in reaching out to a large market segment and offering various accessible bargains to attract passengers.
With a cruise booking engine, travelers can get all of the information they need, including availability, deck rates, and arrangements, all under one roof.
We build technologies in accordance with industry trends and are committed to providing our work with the greatest care and proficiency, owing to our significant expertise of more than 9 years and a trustworthy strong team in the travel technology sector.
The cruise industry, like many other industries, has undergone massive transformations as a result of modern technology.
This includes growing dependence on artificial intelligence, machine learning, and software packages meant to assist with automation, as well as more widespread usage of smart devices powered by the Internet of Things.

Top Features of Cruise Booking Engine
Currency Exchange Management
Revenue Management
Cruise Line & Ship Preferences
An "Affiliate" approach for swiftly adding affiliate users and websites.
Travel agents are selling more quickly thanks to an easy-to-use booking engine.
Multi-Language Support
Currency Exchange Management
Fares can be easily marked up or marked down by cruise line, cruise ship, cabin category, sail date, booking date, and more…
Advanced cruise search engine
A single booking engine is used by multiple selling channels.
Brand Management
Secure Processing
Promotions Section, which simplifies the administration of targeted sales/promotions.
Fare Code Management
User Management
Display biassing allows you to concentrate your business on specific providers, ships, and so on.
Reporting features to assist you in keeping track of your business.
Online Knowledge Base & Support
Direct access to a large inventory at low prices
Real-Time Inventory
User Registration and Validation Module
Customer Support for Online Cruise Booking
Report
How Does a Cruise Booking Engine Work?
Whether you require a Cruise Reservation System, a Cruise Booking Engine, a Cruise API, or anything else, we can help you convert your business and prepare it for the future.
Our cruise reservation system is built to connect cruise lines to a centralized platform using the cruise API.
The API provides a link between travel agencies and suppliers when using the cruise reservation system, allowing these OTAs to check their live, real-time inventory and availability.
After your customers have decided on a cruise, you can present them with a variety of airline, hotel, and transfer options by utilizing our cruise dynamic packaging solution.
It was intended to allow forward-thinking enterprises to create their own cruise packages, allowing you to pick and choose components to create your own unique vacation offering.
OneClick can provide your company travel booking software with the technology needed to create one-of-a-kind journey packages and automate long-term operations.
The Internet and our cruise software package can be used to make a cruise reservation.
Customers can obtain information and purchase tickets online at any time, seven days a week.
In real-time reservations can be made and paid with an authorized on-site credit card.
Benefits of Cruise Booking Engine
The channel partners/travel websites automatically assign rate cards and fare codes to them.
Calculate the tax rates, discount limits, and payment terms.
The use of a convenient reservation engine for travel agents has led to agents selling faster.
Detailed descriptions with links to media files and rich content for cabin photos, ship photos, and deck plans will be provided to assist the purchasing process.
A single booking engine is used by multiple selling channels.
A specialized search engine designed specifically for cruise ships.
An instant, online cruise booking engine that guarantees complete security.
Direct access to a large inventory at low prices
Advanced features for displaying special offers and seasonal offerings
Display the entire itinerary as well as destination information.
Driving instructions and travel advice
A personalized look and feel to aid in brand management
Fare code management capabilities for displaying special fare types
Immediate Return on Investment
Secure Data & Complete Compliance
Simple Mark-up Controls
Monitoring in Real-Time
Increase your online direct sales.
Reduce your reliance on other sales channels.
Support and a knowledge base are available online 24 hours a day, seven days a week.
Deliver it in the desired templates with brand letterheads in accordance with the cruise guidelines.
Integrate one-click payment gateway links and payment receipts downloads.
Manage FARES across the board quickly and make informed decisions about where to add or discount prices using the power of AI.
Activate/disable fare codes on a dashboard, allocate them all over and allow a date range.
Why Choose Us As a Cruise Booking Engine Development Company?
A leading travel technology company OneClick provides travel agencies across the globe with a cruise API solution.
Our efforts are driven by the desire to provide a great user experience, which can only be achieved by employing cutting-edge technology.
By utilizing our effective cruise booking engine, we were able to significantly reduce the user's critical booking time.
Among other things, our online cruise reservation system included cruise lines, cruise ships, and cabins.

Furthermore, it assists the consumer in making a purchasing decision by uploading photographs and videos of the boat, cabin, and deck, among other things.
We provide cruise booking engine software, a single ship management system, and a food management solution, among other things.
Our services can be personalized to meet your specific needs.
We improved the user experience by allowing them to manage their own accounts. Stay relevant, differentiate your offerings, and build strong customer relationships by leveraging the power of New Distribution Capability (NDC) for your travel business.
Because of our innovative solution, the customer and the cruise line have complete control over guest accounts and other changes to the purchase request.
OneClick is a well-known firm that offers great deals on cruises to a number of places.
What distinguishes us from other providers is that we provide high-quality services at reasonable prices.