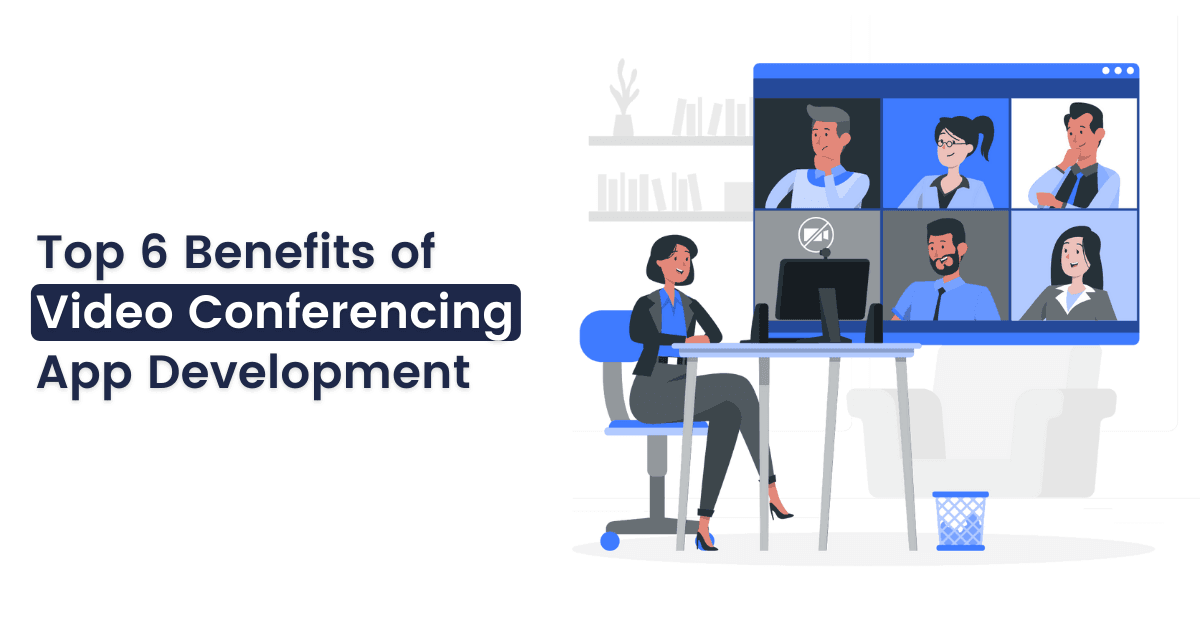 Introduction
In this blog, we are discussing the Benefits of video conferencing app. What seemed complex and expensive a few years ago has now become accessible and easy to use. Technical progress has made video conferencing easy and affordable, which has modernized working relationships and made life easier for the company.
Indeed, more of us are considering working with new clients located at the other end of the country because of the connectivity.
We are also more favorable to hiring skilled people from multiple locations because it is easy to have face-to-face conversations with them.
Video conferencing has eliminated some barriers related to remoteness and has thereby contributed to business liberalization.

The worldwide lockdown has led to a further boom in the use of video conferencing apps. These apps are enjoying success for uses that go beyond just remote interviews and professional meetings.
The service is now used for virtual parties, family reunions, yoga classes, concerts, weddings, and so much more in iOS and Android both devices. Elevate your business communication with our cutting-edge IT outsourcing video conferencing app development services
However, these apps have a plethora of benefits for an organization even in normal situations. Here are some of them:
Top Benefits of Video Conferencing App Development
1. Data Security
With an external video conferencing app or solution, you are always at risk of a security breach. Right from sharing of employee information to project details, all your company data is available with a third party which may pose some threat.
With your own video conferencing app, your data is safe. This can also help your clients build additional trust in the communication and sharing of important information.
2. Additional Features for the Client
Once you have your own video conferencing app, it is easier to record meetings, share and store data, demos, and other project-related information. Access and retrieval of this information become easy for both parties.
Your client can save costs on external video conferencing apps. It is an impressive feature that can give you a competitive edge.
3. Optimization of Travel Time and Costs
This is certainly the best-known advantage and the one that comes to mind as soon as we talk about video conferencing. It concerns all departments of a company: the sales department can extend its geographic field of prospecting, the HR department can summon more remote candidates for a first creaming, the IT department can come to support remote teams to resolve breakdowns, etc.
Clearly, the whole company gains in efficiency, proximity, and cost reduction.
4. Easy Communication
Emails and text messages are solid communication. But there is always a possibility of interpreting it in both good and unfavorable ways. This can lead to a lot of miscommunication and misunderstanding. During a video conference, participants can observe important visual cues in the body language of clients, partners, and colleagues.
Expressions of satisfaction, concern or understanding can be appreciated more easily than by a myriad of emails, instant messages, or voice messages, making video conferencing an effective alternative to face-to-face.
5. Employee Retention
The mobility offered by videoconferencing contributes positively to employee loyalty. Reducing travel makes it easier to reconcile work and private life. Employees can choose to work from home one day a week to reduce commuting costs.
Remote employees can still maintain close relationships with team members, as the real-time face-to-face interactions of the video are richer than any other alternative to face-to-face meetings. The company finds its interest in retaining its teams and in optimizing the workspace.
You can also streamline employee management with our efficient and user-friendly app. Simplify tasks, enhance productivity, and optimize your workforce.
6. Presenteeism at Meetings Increased
The participation of internal teams in working meetings is increased when they are organized by video conference. The first obvious reason is the possibility of more easily inviting distant people.
Also, we note that the meetings organized by video conference allow decision-making more easily. Participants feel less waste of time and know the effectiveness of this type of meeting.

Conclusion
In addition, the video recording capabilities imply that, if necessary, all those invited to the meeting will have the possibility of returning to the first discussions.
But if we look back, most of us still use the free versions or paid versions of video conferencing apps like Zoom, Skype, Jitsi, Hangouts, and more. You are also aware that these apps come with their own data security concerns.
Also, in the case of most enterprises, where sensitive data needs to be shared, is it worth relying on these external video conferencing apps?
It is time that organizations consider investing in developing their own video conferencing apps. The cost of developing an app like Zoom is not very high as compared to the returns it yields for your business.
We are a software development company specializing in innovative solutions. From web and mobile apps to custom software, we bring your ideas to life.
At OneClick, we have developed custom video conferencing apps for multiple clients across various industries. Our team of experts can guide you with the exact set of features and security levels required based on your business requirements and the strength of the organization. Connect with us today!