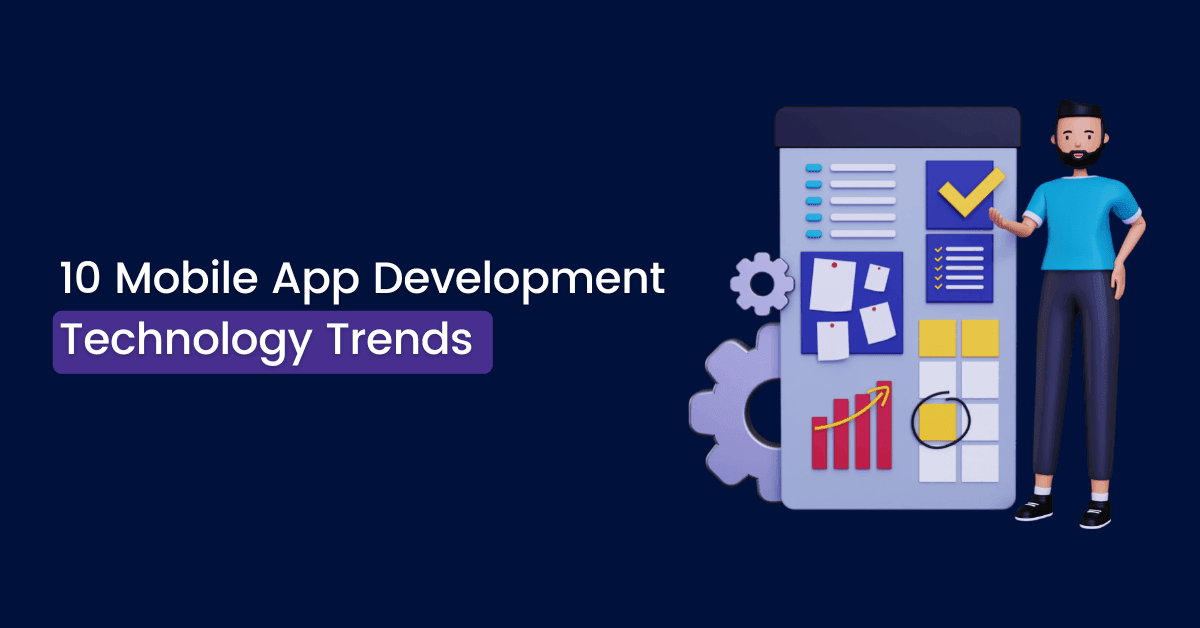 The world of technology continues to evolve at a dazzling pace and also impresses us with its countless possibilities; primarily with its almost essential role today in this time of crisis. Between health measures, confinement, and remote working, technology has once again proved its importance and effectiveness. So, what are the latest technological advances that are gaining importance and which could be among the trends of 2023? This article throws light on 10 major mobile app development trends in 2023 that are gradually materializing and could very quickly emerge:

1. Artificial Intelligence (AI)
AI is used in many fields today, especially when it comes to handling difficult calculations or large amounts of data.
For example, artificial vision is integrated into Android phones, mainly in cameras, allowing sensors to automatically identify objects in order to adapt their settings according to the scene captured. This also allows the automatic organization of images according to the object, scene, or face among others.
In addition, AI is also present in the field of sales, in particular with the popularity of chatbots allowing businesses to spontaneously respond to customer requests through an instant messaging system. On the eCommerce mobile app development side, automatic or voice search makes it easier and faster to find products. On the other hand, some Android app development solutions try to adapt their content and thus personalize their services according to user preferences.
2. Augmented Reality (AR)
Another emerging Android App Development trend of 2023, Augmented Reality (AR), fuses the real world with digital elements while allowing the user to interact in real-time.
An example of AR that has become an integral part of the sales field today, is the possibility of testing a product before buying it. Many physical, as well as online stores, allow customers to analyze a product before making a purchase; clothes, shoes, accessories, or even devices, the customer can determine in advance whether the product matches his requirement or not.
AR is also inviting itself into the real estate sector; some online furniture stores allow their customers to visualize the appearance of a piece of furniture to see if it suits them in terms of size or decoration. Likewise, some applications now allow you to preview walls in a room in different colors.
3. The Network of the Future, 5G
The topical subject in 2020 but also a source of debate, was the emergence of 5G. Gradually, we are seeing the popularity of 5G technology for Mobile Application Development, which could well in the near future be THE network used throughout the world.
In summary, 5G Therefore promises us:
10x faster internet speed.
A consequent decrease in latency.
And a wider coverage to allow the management of a greater number of connected objects (IoT) among others. More specifically, this new ultra-fast network could make it possible to manage more than smartphones, tablets, or connected objects, but also a real ecosystem of machines. These are houses, vehicles, security systems, or even a real smart city.
4. The Internet of Behaviors
Does this term sound unfamiliar to you? The Internet of Behaviors designates technology in charge of monitoring human activities in order to "influence" behavior. This technology will be mainly used in the field of Marketing, more particularly in order to convince the user to buy products.
A more concrete example, a health and well-being application with access to information such as weight, physical activity, heart rate, and others could soon be able to automatically suggest a specific diet or better habits to the user according to the 'information collected. This in turn would influence one's behavior in order to achieve a final objective – sell the product.
In addition, some companies such as banks and insurance agencies could use this technology as an Android app development solution to offer more personalized services or better adapt to the needs of users. However, as with 5G, the subject remains to be debated, this time in relation to the confidentiality and security of the data used.
5. Internet of Things (IoT)
In recent years, the Internet of Things (IoT) has been developed in various fields. Compared to traditional mobile apps, IoT apps are at a much higher level, especially in terms of storage space, accuracy, and data collection. With the use of IoT in mobile app development, it is now possible to locate the nearest taxi, as is the case with the Uber app. It is this key factor that has contributed to the success of Uber. From these facts, it is possible to offer mobile users a high level of service, keeping in mind the confidentiality of their data. Hence, this is one of the technologies for mobile app development trends in 2023 that will gain further popularity.
6. Voice User Interfaces
Voice search is the latest trend in the online search world. In fact, people are increasingly using their voices to make requests. More practical on a daily basis, it allows you to perform several tasks at the same time. Voice recognition gains in performance every year. That is why one of the mobile app development trends will be to include voice user interfaces (VUIs) in applications, with the ultimate goal of improving the user experience. For businesses, the ideal would be to develop applications that use voice and touch simultaneously.
7. Beacon Technology
Beacon technology is a trend of the future. This technology is very useful in the eCommerce sector, and in particular in proximity marketing. In fact, a store can send promotional offers when a customer approaches a store equipped with a Beacon box. Based on Bluetooth, Beacon technology is then much more precise than a GPS. Another advantage is that creating iBeacon applications is very easy and requires little investment.
8. Progressive Web Applications
Progressive web applications or PWA are websites intended for mobile. Even if they strongly resemble it, they are not applications. And that's where they get all their success. PWAs are accessible in search engines via a URL, without going through Google Play, and no need for installation. These applications occupy less storage space in the memory of the mobile. In addition, they have all the characteristics required in Android app development solutions: access to the camera, the microphone, and the GPS location. Unlike traditional Android or iOS applications, an internet connection is not necessary to access it. Suitable for all types of screens, developing a PWA requires a small amount of work.
9. Mobile Apps On-Demand
With the proliferation of platforms for connecting individuals such as medicine, food delivery, or grocery delivery, on-demand mobile applications have become popular. Due to the ease of payment, proximity, and tracking facilities, the trend increased in 2023. With the Uber phenomenon, many start-ups are adopting this model of on-demand service: from anywhere, in real-time.
This will become a mobile app development trend in 2023 for:
Beauty / Fashion
Catering delivery
Taxi or Transport Vehicles with Driver
Cleaning /laundry
Automobiles testing etc.
10. Blockchain
What is interesting about Blockchain is that it allows large-scale transactions to be processed very quickly, without intermediary costs. It is now possible to use digitized data to manage processes that involve multiple companies, with greater visibility and confidence. The information is secure and it is for one of its reasons that the blockchain is on the list of Android App Development Trends 2023. Each data modification must be validated by the various participants who make up the chain.

To Conclude
As a Mobile app development service provider company, OneClick is gradually starting to focus on the latest trends of the moment with the latest smartphones to design apps suited for all operating systems and devices. If you are looking to integrate these latest technologies for Mobile app development in 2023, contact our experts for a demo and no-obligation quote.