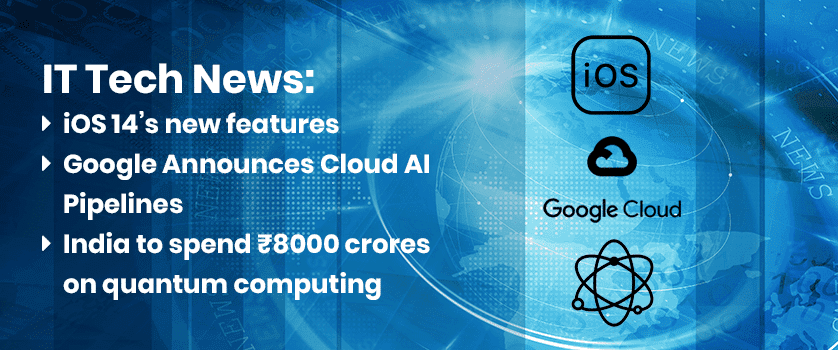 This week's News Bulletin features How Startups are feeling threatened with the new iOS 14's features, Google's new Cloud AI Pipeline service, and India's allocation of ₹8000 crores on quantum computing
iOS 14's New Features Leave Startups Feeling Threatened
The official release of iOS 14 is expected in the fall of 2020, but a beta version should already be presented in June at Apple's Worldwide Developers Conference (WWDC).
Even if no official announcement has been made regarding the new operating system for iPhone, iPad, and iPod, rumors are already running about the new features of iOS 14.
Airtags, Wallpaper, Fitness, Augmented Reality scanning and many such features are considered a threat by many startups after they are rolled out on iOS devices.
The latest news in the first report concerns the AirTags. According to the iOS 14 code, competitor Apple Tile will have batteries that can be replaced by the user, so you won't have to buy a brand new AirTag or bring your AirTag to the Apple Store. AirTags can also be configured in bulk via iOS.
Apple will prepare a new app for iOS 14, tvOS 14 and watchOS 7. Internally called "Seymour", it could be released as "Fitness" or "Fit" and it would download video guides for some fitness activities.
The wearables may not have videos, but a step by step to correctly carry out the activity. These would be offered free of charge, the app not containing any payment mechanism via in-app purchases or subscriptions.
Augmented reality scanning feature, codenamed the Gobi, partners will be able to build their own AR and generate QR codes. With Apple introducing an SDK for lighter-weight AR experiences, this could mean competition for not just startups but few tech giants too.
According to the iPhonesoft site, iOS 14 should be compatible with all iPhones that work with iOS 13. The iPhone 5S and 6 will therefore not be able to download iOS 14, and there is a slight risk that the iPhone SE and 6S will not be on the list either.
As for the iPad, iOS 14 should not be available on the iPad Mini 4 and the iPad Air 2, whose chips are too old.
OneClick IT solutions offer full-stack iOS application development solutions for SME's. Our team of experienced developers also integrates the latest features and updates as a part of our post-development support. Connect with us to know more.
Google Announces Cloud AI Pipelines
On 12th March, Google announced the launch of a single tool that can help developers deploy Machine Learning (ML) Pipelines.
The Cloud AI platform is an enterprise-grade service, that not only facilitates single tool deployment but also offers tools for monitoring and auditing these ML pipelines.
This also helps in automating the processes for setting up Kubernetes Engine clusters and offers manual configuration of Kubeflow Pipelines too.
To make the service flexible, Google plans to allow the use of Kubeflow Pipelines SDK and the TensorFlow Extended SDK for authoring pipelines. Developers will also be able to get visual tools for artifact tracking, versioning and more while building these pipelines.
With Machine Learning taking the front seat in top tech trends of 2020, we at OneClick are experienced to leverage it. As a renowned web development company, we utilize the Machine Learning framework in building your web apps.
India to Spend ₹8000 Crores on Quantum Computing
The 2020 budget emphasized on taking advantage of the emerging technologies as a part of the new economy. Finance Minister Nirmala Sitharaman during her budget highlighted Quantum Computing as one such technology.
"Quantum technology is opening up new frontiers in computing, communications, cybersecurity, with wide-spread applications. It is expected that lots of commercial applications would emerge from theoretical constructs that are developing in this area," quoted Sitharaman.
The Government has provided ₹8000 crores ($1.12 billion) over a period of five years for the National Mission on Quantum Technologies and Applications.
A second quantum revolution is a part of the 21st-century technology trends. It brings together research aimed at designing and producing disruptive devices that exploit the physical phenomena of superposition and quantum entanglement.
It is a rapidly expanding field with very high scientific and technological challenges. In particular, the realization of a quantum computer would allow revolutionary approaches for certain classes of problems.
Some of the Uses of Quantum Computing Are
Data Mining: Speed ​​up the search for specific information in a large database.
Process optimization in Industry 4.0: Find an optimal solution in a complex multi-parameter system, such as the fastest route of a delivery truck or adjust supply to demand on a highly decentralized electrical network.
Artificial intelligence: During the learning phase of an AI system, such as image recognition, information can be simultaneously recognized and not sequentially as is the case with conventional processors.
Whether you are a startup or big giant, leveraging on the emerging technologies is the need of the hour. If your project needs an implementation of AI, ML, Big Data or AR/VR to enhance customer experience, connect with our experts today.