IoT App
Top 5 Applications of IoT in Home Automation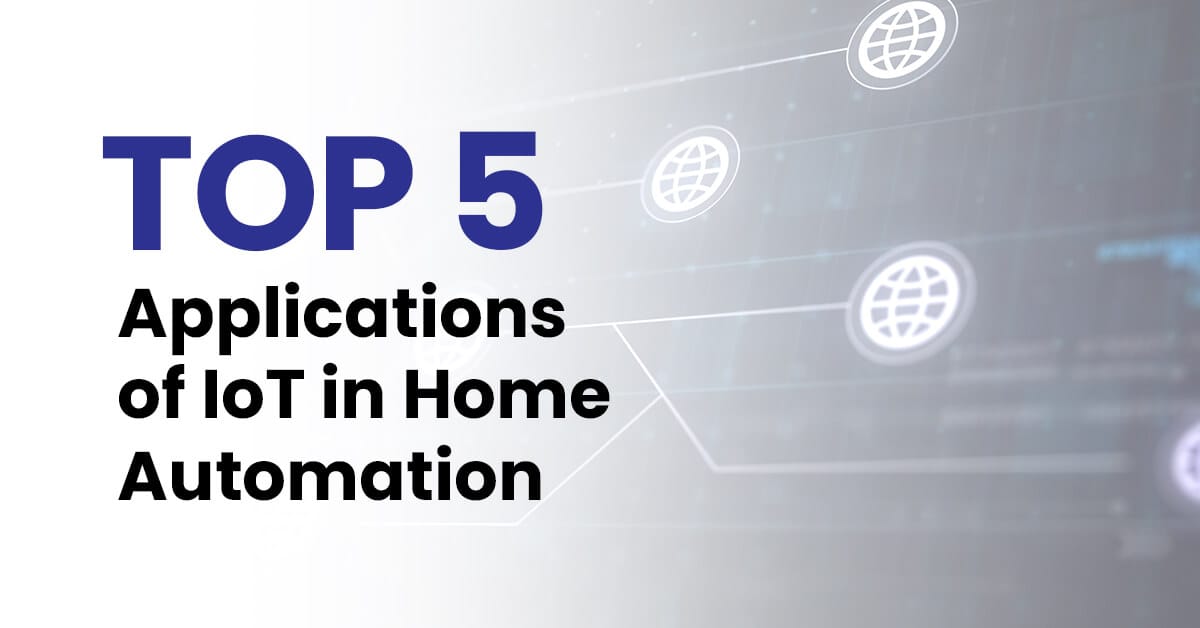 Smartphones have made it possible to perform practically everything in today's digital environment. Our houses' management and upkeep have become simpler thanks to the latest IoT Home Automation Apps. People are always on the watchtower for the next best gadget that will allow them to manage their lives with the touch of a button. Do you, too, wish you had a single app with which to control all of your home's electrical devices? Who wouldn't? It's convenient to be able to command several gadgets with a single input.
Conventional manually-regulated homes are not giving way to a world powered by sensors. Disruptive technologies such as the Internet of Things are appearing in many facets of society, including the appliances people use every day in their homes. In this article, we'll talk for considerable length about the dominating IoT home automation apps in the industry and what are their best selling points that you can aim to implement in your product.

What is Home Automation?
Home automation refers to the process of automated regulation and management of various technological devices present inside a house. These gadgets can be controlled from afar thanks to their Internet connectivity. With Home automation, your devices can automatically interact with one another, pretty much eliminating the need for any human surveillance. For instance, you can schedule your lights to turn out at a certain time when you fall flat out on your bed. Or you can set your thermostat to turn on the air conditioning an hour or so before you return from work to avoid coping with a steamy house. An automated home not just simplifies your lifestyle but also impressively cuts back on your utility expenses. Furthermore, with IoT gadgets like surveillance cameras and devices, Home automation can also significantly contribute to improved personal safety and security.
How does Home Automation Work?
Home automation basically utilizes a distributed system of hardware, communication, and electrical interfaces that work altogether to interconnect standard products with one another via an Internet network. A home automation system is comprised of three primary components: sensors, controllers, and actuators.
Since each device includes sensors and is accessible by WiFi, you are capable of managing them from your smartphone or tablet independent of where you are sitting, whether it is somewhere hundreds of miles away or right in your own living room. You can perform things like switch on the lights, lock the front door, and even adjust the temperature from a different location thanks to this feature.
Smart Home Automation: Benefits & Use Cases
A home automation system is designed to optimize your house's management. Here are a few distinct advantages it offers to consumers:
1. Remote control
First and arguably most important, every home automation equipment can be managed remotely using a smartphone app, which means you can turn off the security system for a neighbor, greet a visitor via a digital doorbell, or help a house guest who can't locate the light switch by turning on the lights for them.
2. Convenience
Easily switch devices on and off at predetermined periods, or change their settings from wherever you have Internet access. You'll have more mental bandwidth for what really matters when you don't have to worry about locking the door or turning out the lights.
3. Geofencing
Certain Internet of Things (IoT) gadgets may be controlled remotely using your phone's Geolocation to save you the trouble of remembering to switch them on and off manually.
4. Crisis Management
Home automation surveillance devices such as smoke alarms, carbon monoxide sensors, and pressure transducers could be quite invaluable in the scenario of a crisis.
5. Power Savings
Home automation enables you to become more consciously aware of your overall energy consumption. For instance, you may save money on your energy bill by minimizing the amount of time lights are left on and by turning down the thermostat whenever you move out of the space.
Top 5 IoT Home Automation Apps to Declutter your Life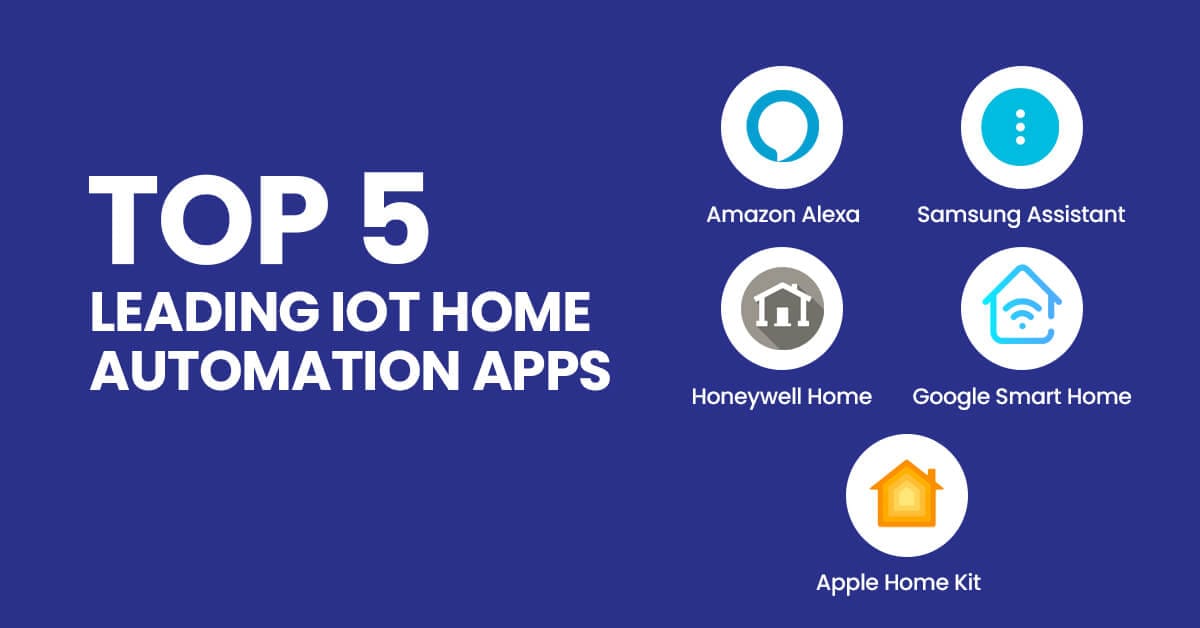 1. Amazon Alexa App
When it comes to IoT Home Automation Apps, Amazon's Alexa is a clear winner. The amazing part about Alexa is that it's much more than a usual IoT device Management app. Alexa can handle a great deal of tasks for you, reducing your workload to the bare minimum.
It is compatible with plenty of electrical devices from a wide range of popular brands. The fact that you can have Alexa at your disposal, ready to serve you round-the-clock on a single command one of its most appealing qualities.
Key Features:
Play music
Create a shopping list
Check the compatibility status of your devices
Task management
Text or Call supported devices
2. Google Smart Home App
Getting along without Google would've been challenging. As Google is the go-to for so many digital needs, we figured it was only fair to highlight its smart home app here. Google's Home app is available for iOS devices as well. In short, if you're looking for a reliable home automation app, look no further.
You can set up and manage your Google Home or Nest speakers, screens, and Chrome cast all from the same app. The system is compatible with a multitude of gadgets, allowing users to manage anything from lighting and cameras to stereos and more. All of your reminders and alerts are accessible from one convenient location.
Key Features:
Creates a shopping list.
Check your calendar.
Set a timer.
Provides weather information.
Answers your queries
3. Samsung Assistant App-SmartThings
When it actually comes to IoT Home Automation Apps, Smart Things makes it one of the best bets. Although not without limitations, it typically provides more customization than the Google Home app and much less visual clutter than the Alexa app. Compatibility with other smart home systems is one of Samsung Smart Things' strongest selling points. It's compatible with several smart home systems and allows for streamlined device management through a central interface. Smart Things can be used with dozens of Wi-Fi smart devices without a hub, but a hub is required to use all of Smart Things' features.
Key Features:
Wide compatibility
Scenes and automation
No monthly fee
Great mobile app
4. Honeywell Home App-Resideo
Honeywell is an established brand that produces innovative electronic household appliances. To further enhance the smart home automation experience, the company has now released a smartphone app. Honeywell Home adapts quickly to fit your routine. Smartphone integration allows for remote temperature regulation and leak detection.
The wireless system requires nothing in the way of setup and can be handled locally or remotely using an IoT device management app like Resideo or Homey. This ensures that you are as comfortable as possible at home while also conserving energy when you are not.
Key Features:
Control numerous devices such as humidifiers, thermostats, doorbells, etc, from a single app.
Watch all of your Honeywell cameras from anywhere.
Receive instant updates about household happenings
Affordable Pricing
5. Apple Home Kit App
Apple's HomeKit, released in 2014 with iOS 8, was a pioneering effort that attempts to integrate control of several smart-home devices into a single interface. It was a poor attempt that only allowed Siri to be used for navigation. Apple raised the stakes with iOS 10 by introducing the Home app.
HomeKit is Apple's framework for automating the house, and it allows users to control a wide variety of smart home equipment from their iOS devices. Thanks to Apple's user-friendly interface and intuitive design, managing your smart home using an Apple device such as an iPad or iPhone is really a breeze.
However, its incompatibility with other devices, as well as the absence of support for several major brands of smart home devices, may prove to be a deal-breaker for many.
Key Features:
Siri control offers an exceptional experience
Easily set up a wireless network using a central Apple device
Delivery Encryption
Automate your house and create scenarios with the app.
Lets your wirelessly regulate lights, thermostats, and doorlocks
Final Thoughts
Factors to Consider Before Developing a Home Automation App
While designing an app to automate your smart home, it's essential to keep in mind the following details:
1. Budget
The initial investment in a bespoke solution is high, particularly if marketing is also to be funded. You must have a healthy bankroll, since costs add up rapidly. You may better deal with this by allocating funds between the Minimum Viable Product and later, more complex phases, or by constructing a flow of progressively delivered premium features.
2. Customizability
Customizability refers to the degree of flexibility that your product design offers. As a thumb rule, the solution that you design must be consistent with the rest of your gadgets and with your brand's image.
3. Development Cycle
The span of time it takes to create a one-of-a-kind smart home automation app is another significant factor to consider. While a minimum viable product (MVP) might be completed in as little as two months, a fully functional cross-platform software may take anywhere from four to six months to develop. In many cases, picking a ready-made solution will allow you to go forward much more quickly.
Ready-made Product or Bespoke Customizable Solution?
Why would a business decide on a ready-made IoT solution? The benefit is clear-cut: you save time by not having to come up with everything from the ground-up. This certainly provides you with an edge by getting to the marketplace rapidly with little outlay of resources. But, this strategy has one major drawback: it restricts product flexibility and may even limit the scalability potential. What's more, it adds your product to the long list of competitors that have already gained market share. Consequently, there is no distinguishable quality that sets it apart from the competition.

Building your customized mobile IoT app solutions from the ground up may seem like an insurmountable challenge, but the reality is that you may get the most bang for your buck by hiring an IoT mobile app development company to do the heavy lifting. If you're looking to construct something genuinely new with the help of the brightest brains, go no further than OneClick's talented team of developers.
Invest in IoT Home Automation Apps Development with OneClick
Building a complex product such as smart home automation software requires top-tier expertise and a talented team. That's where a seasoned IoT app development company OneClick comes in. At OneClick, we boast over a decade of experience delivering extensive smart home IoT app development services in the USA and the world. We help tech firms, both inside and outside of the USA, to create a responsive mobile app to control and monitor all of their smart home gadgets from one convenient location with our home automation IoT app development services user-focused interfaces and dashboards that enable constant monitoring of device performance through real-time tracking and analytics. Our smart home automation systems leverage AI frameworks and specialized elements to construct data-driven applications that provide customized user experiences. Ready to invest in a custom IoT home automation app solution? Let's get in touch!