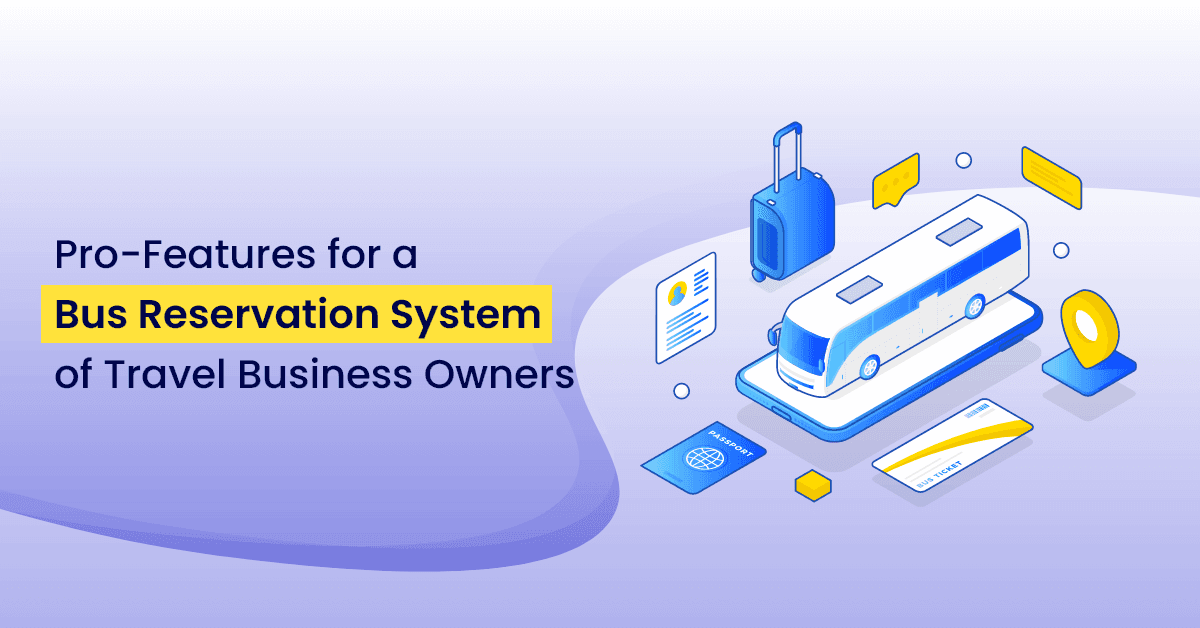 Introduction of Bus Reservation System
Do you want to work on a project that requires a bus reservation system that is available online?
We're happy to help you in whatever way we can.
Please get in touch with us. Cloud-based web program for online bus reservations.
Customers might use this system to reserve a seat on a bus or book a seat on a plane.
This system would also aid the owner in managing the coaches, staff, clients, services, and other aspects of the business.
The Bus Reservation System will improve the efficiency, convenience, and comfort of the reservation process.
Customers can reserve the seats they want. They can see whether there are any open positions on a given date.
Customers can check availability, reserve a ticket, or cancel a ticket 24 hours a day, seven days a week.
You can access the online system at any time. The user is not required to visit an office.
All you need is a web connection and a device to use our system.
They can look up the route, price, and class, among other things.
They can pay using a credit card, a debit card, internet banking, a PayPal-like online wallet, or cash.
This system would make managing buses, personnel, and salaries a breeze. This is a risk-free method of expanding your business.
Top 9 Unique Features of Bus Reservation System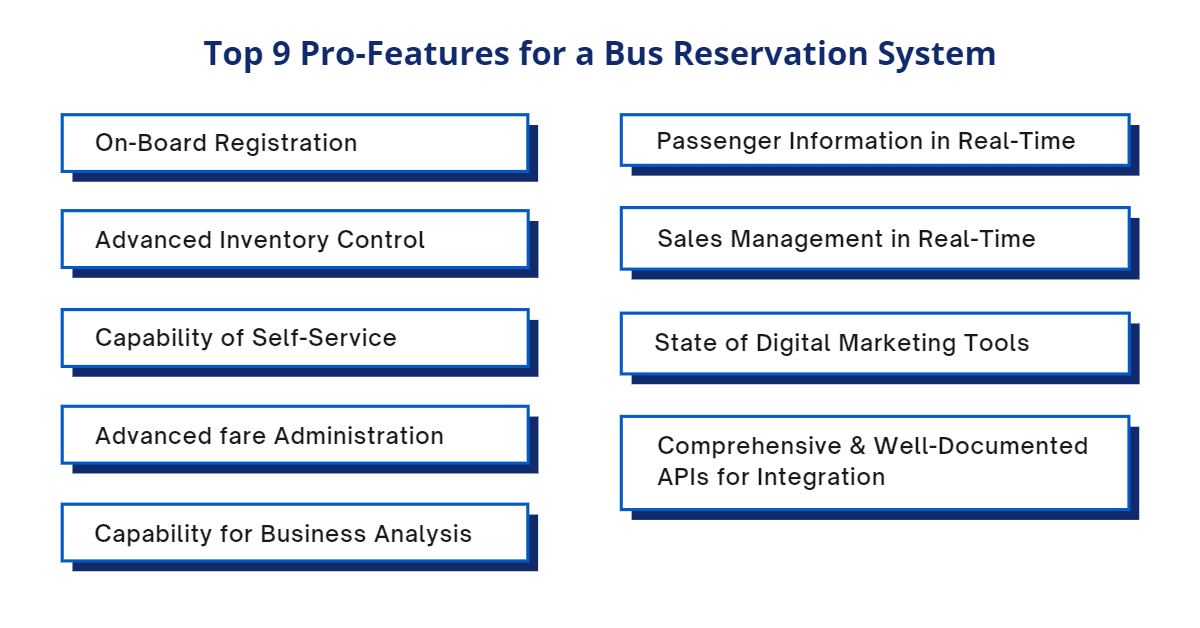 1. Advanced Inventory Control
The operator's business model determines how seat inventory is managed. Shuttle services, for example, rarely necessitate specific seat inventory management.
Intercity activities, on the other hand, necessitate real-time inventory management.
Allowing passengers to select their favorite seat on all stop segments without affecting availability on other segments would be excellent if the operator can organize and prepare their fleet ahead of time.
Operators can maximize seat utilization and income per kilometer this way.
2. Comprehensive and Well-Documented APIs for Integration
According to a popular saying, "no man is an island." The same can be said for digitally savvy operators and their booking systems.
A bus reservation system must be able to interact with numerous different systems to provide a future-oriented booking experience.
Whether it's reselling available seats to third parties or integrating with other critical company systems like fleet management, ERP, registers, and social media, we've got you covered.
To prevent complexity and difficulties, the current method is to employ a well-structured database schema and service-oriented design.
Generally, the integration of these services requires a well-documented API.
3. On-Board Registration
Although it may come as a surprise, there are still places where travelers must redeem tickets purchased online at a bus station or through an agency.
Drivers should be able to take electronic tickets with as little pre-purchase time as feasible using a modern reservation system.
In an ideal world, the passenger would arrive at the bus stop 10 minutes before the bus arrives, purchase a ticket with a numbered seat on their smartphone, and the driver would already be aware that a passenger is waiting to board when the bus arrives.
This feature is especially relevant in light of the growing trend of on-demand transportation and its impact on passengers' expectations of being picked up nearby.
Long-distance operators will almost certainly add far more flexible demand-driven pickup and drop-off places where the bus will only stop if a customer has booked a ticket in advance.
This necessitates drivers having a continuous, real-time picture of their constantly changing passenger manifest.
4. Omnichannel Sales Management in Real-Time
Let's be real here. Because passenger transportation is a low-margin company, it is critical for a successful operation to not lose any potential customers.
As a result, you must have a real-time view of every accessible seat across your entire sales network.
Whether it's web-based OTAs or a bus driver who stops in the middle of a voyage and starts selling tickets to on-the-spot clients.
Implementing demand-based yielded pricing, which has shown to be a crucial factor of success for many operators, requires real-time seat and sales management.

5. Capability of Self-Service
Fewer personnel mean improved cost efficiency in most places of the modern world.
As a result, the fewer workers operators need in their call centers and help desks, the more passengers may manage their travel-related aspects on their own.
Client satisfaction will also improve as a result of the move to self-service because they will be able to control their trip information at any time without having to engage with other individuals. For all sides, it's a win-win situation.
In terms of usability, self-service functions necessitate special care.
They must be simple, logical, and intuitive. If not, your support desk will only get confused and add to the workload in the worst-case scenario.
6. Passenger Information in Real-Time
Modern bus reservation systems aren't just for making reservations.
They should be able to manage the customer's experience from beginning to end.
This includes being able to observe the bus's current location and receiving notifications when it deviates from the intended route.
The passenger should have access to all information via a website or an app.
In addition, the bus booking system must be able to provide information on roadwork and any scheduled or unanticipated operating changes.
No modern passenger is willing to be kept in the dark.
7. Advanced fare Administration
The expense of long-distance travel varies significantly depending on the type of business you operate.
Our research has shown the diversification of operations by international, lengthy, and shuttle services, particularly by those market leaders in their respective regions.
Such operators' reservation systems need to provide single-price models which comply with their operational requirements.
To provide the operator with a full passage experience throughout his operations, a modern bus reservation system must be able to handle scenarios such as dynamic prices in competitive intercity operations or serial travel passes for commuter/shuttle services.
8. The Current State of Digital Marketing Tools
A booking system is a useful data source for the sale by a bus company (with consent, of course).
Without excellent online marketing strategies, a bus company cannot exist for a modern passenger.
A long-distance bus operator needs to be present on most digital channels to find possible passengers as fast and easily as possible.
The toolkit should include social media, campaigns, email marketing, loyalty programs, and other tactics. Flixbus, for example, is successfully attracting millennials using these tools.
They are a feature of a well-designed reservation system that a business may leverage to boost ridership.
In a future blog post, we'll delve deeper into the issue of digital marketing.
9. Capability for Business Analysis
We believe that as a developer of a bus reservation system, we shouldn't spend too much work creating highly customizable reporting features within our platform.
Instead, we should concentrate on obtaining data in a fragmented, well-structured, and accessible style for use in specialized business intelligence tools.
Since the data handled by travel systems are highly relative and multi-layered in travel, no solutions for structuring "check" or "fast-fix" databases ("let's-use-this-comments-field") should be used as this will lead to clutters and, in the worst-case scenario, wrong decision-making analytical results.

Why Choose OneClick As a Top Bus Reservation System Development Company?
Due to the flexibility and convenience, it provides to clients, software for bus ticket sales is growing in popularity.
Bus ticket booking software development, on the other hand, is a time-consuming procedure that necessitates the involvement of skilled individuals with sufficient experience.
We provide enterprise-level travel and transportation app development services at OneClick.
Your project requirements will be transformed into a dependable and user-friendly bus ticket booking software that your users will love.
Check out our case studies and get in touch with us if you want to talk about your project concept.
Rarely favorite several We'd be happy to have a conversation with you to better understand your aims and objectives, and if necessary, provide you with a free quote for your project development needs.