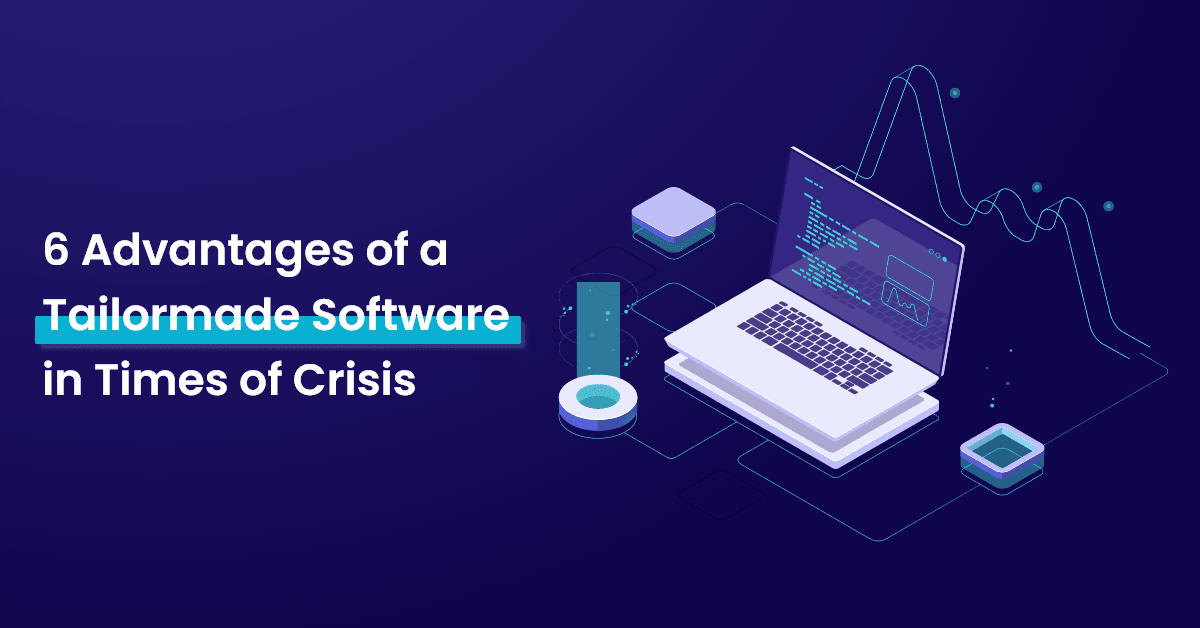 Introduction of Tailormade Software
These days, it's impossible to think about the success of a business without having the right tools and technologies to back it up. In these difficult times, it is more than ever essential to ensure that the tools you use daily support you rather than hinder you. It's time to take a step back to find out where your business is and act on it.
If we have to find a positive side to this crisis, it is because it has enabled us to see the various areas for possible improvement in our companies. Take advantage of this experience to move up a gear. When others are happy with generic solutions available on subscription or some fee, dare to invest in a solution that fits your business, not the other way around.
Indeed, limiting yourself to the generic tools available on the market serves you above all for that: to limit yourself. To stand out and stay ahead of the competition, you need more: you need better.
Your business is unique, and so are the processes that make it run: it's time to consider personalized solutions
Finding and choosing the right tools to help you run the operational side of your business should not be taken lightly. Operationally speaking, a good choice of software should be based mainly on the following criteria:
Integrate perfectly with the processes in place,
Respond to your specific needs,
Be flexible,
Provide quality technical assistance,
Be up to date.
Why Avoid Generic Solutions?
Generic software is designed to meet the needs of the greatest number of users. Thus, they offer standard functionalities which cover most of the missions of companies in general. However, what can be their strength in certain situations turns out to be their greatest flaw too.
Indeed, being standardized, they do not take into account the specificities inherent to your business. As a result, even with a multitude of built-in functionalities, this standard tailormade software cannot effectively meet certain specific, but vital, needs of your business.

A Tailormade Software Solution: What is it?
Tailormade software is one that is specially designed to respond to the issues that may arise in your business. With this type of software, you are sure to have a tool that adapts very well to the specifics of your business, because it meets your precise needs and integrates perfectly with the processes you already have in place.
This is guaranteed by the fact that the development of this type of software follows precise specifications in order to meet the specific needs of your business. Acquiring this type of tailormade software provides significant benefits for your business in the long run.
Performance, efficiency, and flexibility, these are the main advantages of having a tailormade software solution at your disposal.
Break the Limits
If everyone uses the same things, everyone caps the same. Tailor-made development makes it possible to push back this barrier. As a simple illustration, imagine a ready-to-wear suit and a suit made to measure by a tailor. Which of the two will be the best fit in the end?
The 6 Advantages of Tailormade Software in Times of COVID-19
While it is important to have high-performance, efficient and flexible tools in normal times, it is even more so in times of crisis. There is no doubt that to withstand the upheavals as seriously as they are unpredictably caused by a crisis such as COVID, your company must know how to respond quickly and effectively to the various challenges it will have to face.
Tailormade software has several advantages that will help your business weather a crisis like this better than others and position it favorably in the post-crisis world.
1. Quickly Adjust to the New Reality Imposed by the Crisis
The scalability of a tailor-made application ensures that it perfectly responds to the various upheavals caused by a given context, in this case, a crisis. In contrast, generic applications are more or less static and require the companies that develop them to update them to be able to adapt to the situation.
With a tailor-made solution, you have access to an on-demand development team who can quickly deliver essential changes to you to adapt to each situation. You will have updates, enhancements, and security fixes to your tailormade software quickly to meet the constraints of a crisis. Otherwise, you would have to wait for feedback from the developers of standard software and expose yourself to avoidable risks in the meantime.
2. More Possibilities for Automating Your Processes
The automation of manual or semi-manual processes is an important issue for modern business. Having a tailor-made software solution can address this issue more effectively, as it gives you more leeway than generic tailormade software. A tailor-made application being customizable, you have control over the implementation of a centralized process which will aim to eliminate all the still manual or semi-manual steps.
More automated processes give you:
A gain in performance and efficiency on important but time-consuming tasks,
A saving of time that you can allocate to other equally important missions,
Less risk of errors,
A solution to the shortage of labor-work that currently exists, etc.
Thus, you will, among other things, be able to increase your productivity and optimize your income accordingly.
3. Seize Opportunities: React Quickly via the Development Firm
With bespoke software development, you have more flexibility to implement new ideas as soon as the opportunity arises. You can adapt your tools to integrate perfectly with the new processes you want to put in place. Conversely, a generic solution requires you to adjust your strategies and processes to it.
In other words, you have a lot of latitudes to seize opportunities as they arise and let you focus on implementing the strategies and processes to make them happen.
4. Achieve an Advantage in Times of Crisis by Continuing to Operate
By having Tailormade software developed, you have a significant competitive advantage, because your company is the only one to benefit from its advantages. This is not the case with generic software that everyone can adopt. The biggest disadvantage of the latter is that if it ever fails, everyone who uses it fails with it.
You can avoid this and keep your business going by opting for a personalized solution that keeps you active, while others experience downtime that will negatively impact their bottom line.
5. Have Reliable Technical Support at All Times
To stay competitive and stay ahead of the competition, you need to have reliable technical support at all times. Having the assurance that your tools won't fail, or that worries will be quickly resolved if they ever do, will allow you to focus on your core business and growing your business.
6. Make Your Business More Crisis Resistant
For a modern business, having solutions that can provide a competitive advantage is more of a necessity than an asset. The years to come still hold some uncertainties in store for us, and the current crisis may just be a foretaste of difficult times to which we may again be exposed. Prepare in the best possible way, make your business more resilient by adopting solutions that effectively support you in your daily life.

To Conclude
Tailormade software solutions act like a stitch in time and businesses should consider investing in them. We at OneClick IT Consultancy have nearly a decade of experience in developing tailormade eLearning, Video Conferencing, eCommerce, Travel Portal, CMS, and Employee Management Solutions for organizations across USA and Europe. Get in touch with our team for a no-obligation demo for your next website or app development project.